Bash
Neil LaBute
The Sevenoaks School Theatre Company
C too
–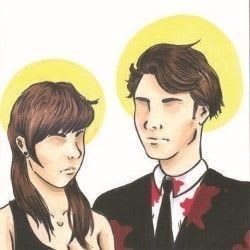 The tight, confident, thirty-five minute Sevenoaks School production of Neil LaBute's Bash: Latter-Day Plays is here referred to in the programme as simply Bash. It consists of two of LaBute's original three one-act plays dealing with prejudice and the abuse of power.
In the first, a young woman (Theodora Mead) sits in a police interview room recounting the background to a terrible crime she has committed. She describes being abused as a child in school by a teacher.
To emphasise the disturbing nature of what the teacher has done, a man wearing a black mask slowly walks onto the stage from behind and touches her. Theodora Mead's performance is clear and believable but she never quite convinces us that the girl has mixed feelings about what happened or that she is both fragile and bitter.
The second story takes us to a pair of good looking, well heeled high school students from a Mormon background on a trip to New York. The horror of what happens when the man (Sasha Doulerain Jr) sees two older men kissing in Central Park is well expressed.
This is a very watchable, chilling performance that demonstrates why LaBute is such a well regarded writer.
Reviewer: Keith Mckenna