Bash: Latterday Plays
Neil LaBute
Barons Court Theatre
–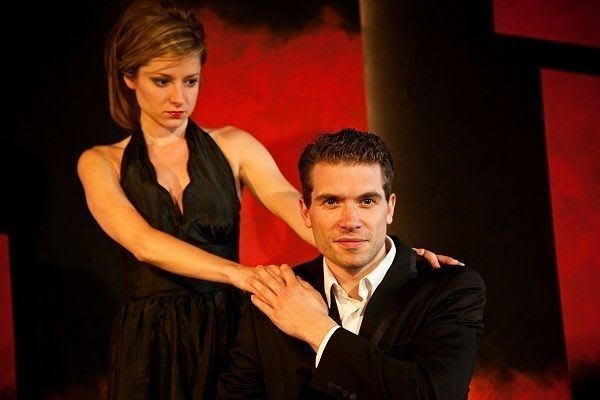 American playwright and screenwriter Neil LaBute is perhaps known for explorations of the world of social macabre, toying with morality in the vastness of quasi-realistic psychological landscapes.
Bash: Latterday Plays is a trilogy LaBute wrote for Off-Broadway in 2000, following the success of his film In the Company of Men, about two men who pursue and destroy a deaf woman. The three character portraits intertwine both relationally and thematically, secrets woven into these personal tapestries, exploring not only the relationship between sin and morality in particular religious and social contexts, but also shifting LaBute's interest from the whodunnit to the why and how as devices shaping the plot and dramatic tension.
Morality allows these characters no redemption, but their acts seem more like museum exhibits encased in dusty history rather than confrontational incisions into the relationship between guilt and societal structures. LaBute's skill lies in construction of cinematic plotlines woven into the theatrical, and Bash builds its thrill on the reveal of internal secrets, but fades away on shaky foundations.
In Iphigenia in Orem, in the neon-lit corridor of a Las Vegas hotel, a man with a thick mid-American accent and the mannerisms of a travelling salesman sits a stranger down to tell him his story. The stranger is only present through the drips of a red wine glass slowly emptying throughout the monologue, an empty chair embodying his physical presence. As the man swallows his words, stumbling through the story with a dangerous air of confidence, we learn of his religious views—he's a Mormon—and his occupation is a businessman.
In this starkly resolute monologue, LaBute twists the dramatic key from a character portrait in which the revelation creeps up behind the story, to an exploration of the appropriation of sacrifice in religious practice. The title of the piece is not only a reference to Agamemnon's sacrificed daughter—a theme which the piece mimics with particular dramatic irony—but also to the Utah town of Orem, where supposedly the act takes place. A new-born is suffocated in what LaBute translates as the personal sacrifice of a man coping with the economic and social pressures of a community, yet it's not the guilt that most interests LaBute, but the process of rationalisation in which he engages with a particularly striking rhetorical twist. James Le Feuvre gives a confident albeit slightly misbehaved performance, oversaturated with the fleshing out of narrative arguments, swallowing his words hungrily.
Medea redux, a confession from a young mother taking revenge for her own sacrifice on her daughter, holds tightly to a similar exploration of guilt, one drenched in detailed narrative and cinematic imagery, words falling like bricks from the character trapped in a rhetorical game. Faye Winter adds thrill and complexity to the performance, her embodiment of what could be a generic trailer trash character a particularly and deliberately harrowing portrait. She is less convincing in A Gaggle of Saints as spoilt college grad Sue in dialogue with her partner John, recounting the minutiae of a party they both attended which serves as an umbrella to the violent homophobic act he commits.
Despite the focus and deliberate rigidity of the texts and the deliberate encasement of the audience as speechless voyeur, there a constantly un-negotiated boundary pursued between the confrontational and the cheap thrilling which director Olivia Rowe never quite addresses. The play's dynamic actions are constrained in the fixity of the characters, and when movement occurs, it's enforced blocking rather than a fleshing out of these dangerous physicalities.
Bash in its entirety feels like a repetition rather than a trilogy, its Aristotelian references swamped by the cinematic nature of its narratives, never allowing too much particularity in the character, instead veering towards plot. In this way, the tension relies too much on the surprise of a reveal which is engrained in the text, making the direction somewhat restless, lacking the context which the trilogy requires to give it that theatrical punch.
Bash's characters are undeniably engaging, and both Le Feuvre and Winter sustain their performances with vocal precision rather than any form of physical presence, but this disembodiment allows the text to linger without solid foundation, trapped in the mechanisms of a quasi-naturalism that doesn't seem to suit it. In that way, Bash holds its performance history in its sleeve, weighted by an abruptness that dissipates too quickly without enough framing.
There's an engagement with contemporary and historical constructions of guilt, regimented through an imprecise position of condemnation from LaBute, nomadic in meaning in this particular adaptation.
Reviewer: Diana Damian