The Hound of the Baskervilles
Sir Arthur Conan Doyle, adapted by Peepolykus and Steve Canny
Peepolykus at the West Yorkshire Playhouse, Leeds, and touring
(2007)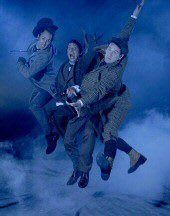 There have been umpteen stage adaptations of Sherlock Holmes' most famous adventure, but never before has an audience been asked to refrain from bringing meat products into the auditorium. This is also the first version in which the great detective has a Spanish accent, plays all the female roles and sports a red velvet deerstalker to match his smoking jacket.
Those familiar with Peepolykus' track record (Let the Donkey Go, Rhinoceros) will know better than to expect a straight dramatisation of Conan Doyle's classic. Yet the trio of absurdist funsters - Javier Marzan, John Nicholson and Jason Thorpe - somehow succeed in making the story a vehicle for their comedic talents without sacrificing either its things-that-go-bump-in-the-night essence or most of the minor characters. Which is quite an achievement for a cast of three men and a blood-curdling sound effect
For the benefit of anyone who has somehow reached the age of reason without knowing the basic outlines of the plot, Sir Charles Baskerville has been killed on Dartmoor - apparently by the spectral black hound that has haunted his family for generations - and Sherlock Holmes (Javier Marzan) is called upon to investigate. The great detective has business elsewhere so his faithful sidekick Dr Watson (John Nicholson) is sent in his place. Sir Henry Baskerville (Jason Thorpe), the Canadian-born heir to the estate, travels down with him and the two men are plunged into a nightmare world of weird servants, transvestism and nocturnal howling. Why do Sir Henry's trousers mysteriously disappear? Why do Mr and Mrs Barrymore, the butler and housekeeper, never appear in public together? Will Dr Watson and Sir Henry succeed in crossing Grimpen Mire without being sucked into treacherous bogs or choked by dry ice?
The Peepolykus Hound of the Baskervilles is too good-natured to be called a send-up, even when the actors step out of character to berate latecomers or admit that they can't do a Canadian accent. So much of the material looks and sounds improvised one can only wonder how director Orla O'Loughlin managed to get through rehearsals - at one point Javier Marzan, informed that "180 members of the audience have complained that they can't understand a word the dago says", insists on repeating the entire first half at breakneck speed. Sir Arthur Conan Doyle would no doubt have been startled by some of the liberties Peepolykus have taken with his creation, but only the most pure of purists could fail to be entertained by this very funny and inventive take on one of the great archetypes of English literature.
At the West Yorkshire Playhouse until 17th February, then touring to Liverpool, Winchester, Watford and Oxford
"The Hound of the Baskervilles" is produced by the West Yorkshire Playhouse, Peepolykus and Neal Street Productions
Kevin Catchpole reviewed this production on tour in Winchester. Philip Fisher reviewed it at the West End's Duchess Theatre.
Reviewer: J. D. Atkinson