Basket Case
Nick Fisher
Chichester Festival Theatre
(2011)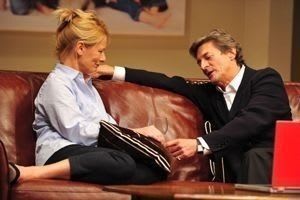 BAFTA award winning Fisher is well regarded as the scriptwriter of some excellent TV series, Hustle and New Tricks being my particular favourites. This, his first foray into writing for the theatre, could have been superb as a half hour TV sitcom but even at less than two hours it seemed somewhat stretched. The relationships and problems we experience in our everyday lives are well portrayed, but arguments and accusations are dragged out a little too long to be entertaining, and there's only so much you can put into discussions on the rival merits of fishing or golf.
That said, there is a lot of gentle comedy in the writing, but it was visual comedy which gained the most hilarity when some over-cooked espadrilles (don't ask) created vast clouds of smoke resulting in frantic attempts to turn off the shrilling smoke-alarm and a perilous climb up the kitchen units to get near enough, whereupon the laughter increased as the alarm fell apart.
Liz Ascroft has provided a very smart, expensive kitchen complete with Aga (and some very desirable bar stools) and a busily brittle Miranda (Christine Kavanagh), concerned that the family dog appears to have reached the end of his life, consults the recipes of Delia or Jamie to decide what best to cook for his wake, and makes a very neat job of mixing and cooking muffins.
Graham Seed (his well-loved character of Nigel Pargetter having been brutally killed off after thirty years in the everlasting TV soap The Archers) plays Martin, a very laid-back, casual country vet who doesn't appear to have much work as he spends his time eating muffins and chatting, but ready at any time to administer the fatal dose which will send Toby off to the happy cat-chasing world in the sky. Family friend James (David Cardy) pops in for no apparent reason but to help Martin demolish the muffins and argue amicably, and between these two we find the best comedy lines delivered in an easy, understated manner.
The play seems to have been devised mainly as a vehicle for Nigel Havers, who actually suggested that Fisher's potential story-line for the TV series Manchild should be adapted for the stage, and he exudes a 'bad boy' charm in his role as the selfish, uncaring, misogynistic ex-husband Guy, delighting his many fans in the audience. Returning to the family home to say 'goodbye' to Toby he shows no feelings for the dog at all, until discovering that Miranda has an exotic French lover and he suddenly realises what he has lost.
As charming but devious male escort in Coronation Street last year, Havers will be taking a big social step to be Lord Hepworth in ITV's compelling period drama Downton Abbey, and will probably be just as charming and devious. It will be interesting to see how much charm he can bring to the character of the evil Captain Hook in Crawley's pantomime Peter Pan this December.
This show makes for a pleasantly enjoyable evening, but having recently been entertained (twice) by a dog in the cast, which is always worth watching whatever the play, my biggest disappointment was this dog Toby who, at death's door, didn't move from his basket.
Reviewer: Sheila Connor