Bat Boy: The Musical
Book by Keythe Farley and Brian Flemming, music and lyrics by Laurence O'Keef
Paul Taylor-Mills Ltd present a Morphic Graffiti Production
Southwark Playhouse (The Large)
–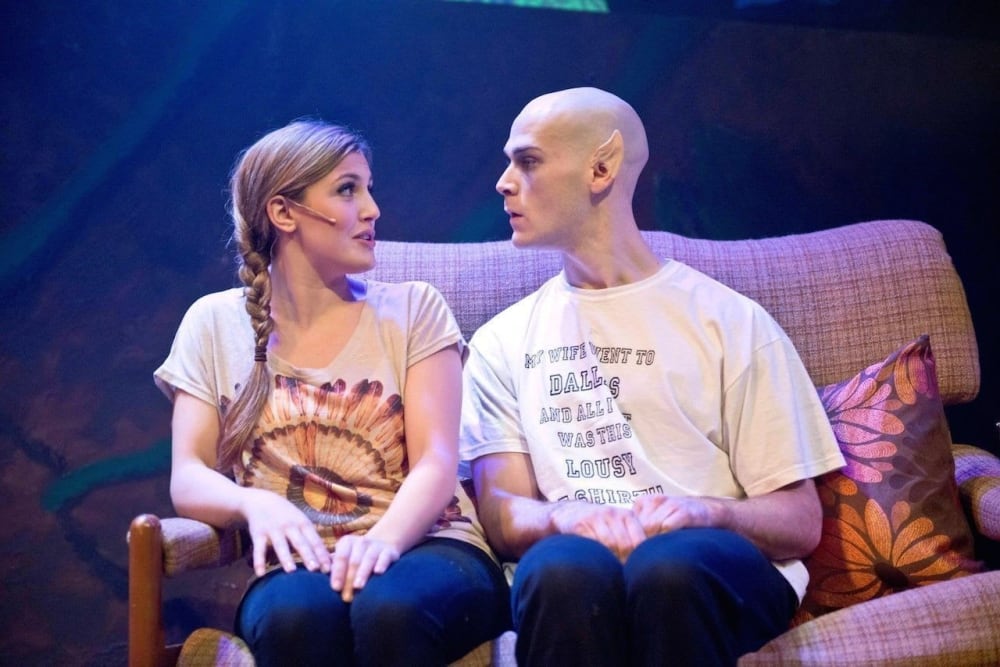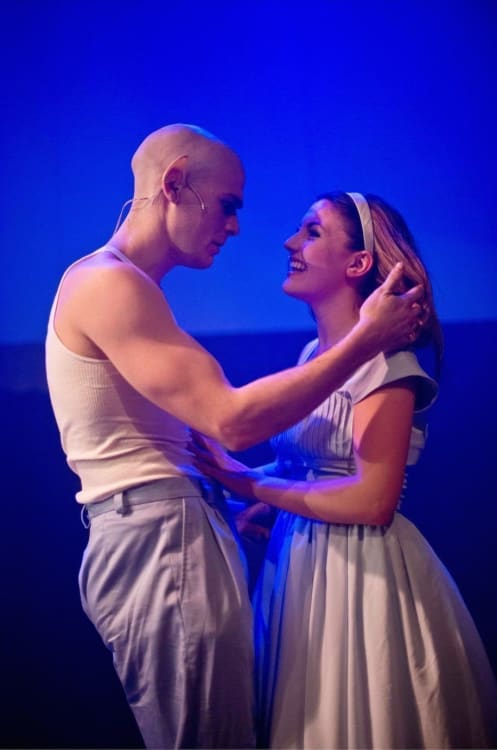 What is Bat Boy: The Musical trying to be? Vampire fantasy, tragic love story, zany comedy, social satire on mid-West America or even a celebration of all-American values?
In fact it has elements of the whole lot of them, though at first one seemed in for not much more than an explosion of performing energy and a great deal of noise.
It is a mixture that is full of some marvellous morsels, this exuberant musical that is outrageously enjoyable. It is the story of a boy who has Dr Spock ears and vampire fangs who is found squeaking and squawking in the depths of a cave. When he sinks his teeth into the neck of a girl in the family group that discovers him he is marked down to be hunted.
Caught and bundled into a sack, the local Sheriff dumps him at the home of vet Dr Thomas Parker who is expected to put him down humanely but Mrs Parker, Meredith, prevents that happening.
Despite the rather restricted diet that the boy finds acceptable, Meredith domesticates him, naming him Edgar, and begins an education that sees him speaking perfect Queen's English (learned from BBC language tapes) in the middle of Hope Falls, Wisconsin.
While Edgar becomes part of the family, with daughter Shelley really falling for him, the Taylors lead a continuing campaign against him which, after skulduggery on the part of a jealous Parker and some astounding revelations, seems to be reaching a happy conclusion before being tipped into tragedy.
The mood is set by heavily stylised wigs, costumes in primary colours, camply comic video projections and some rather ridiculous little puppets. They give the whole production a cartoon element that reaches its peak in Simon Bailey's bright yellow suited, purple-shirted, bling-flaunting, revivalist bishop.
Bailey heads the red-neck Taylor family as the mother of the vampire victim with Pepper Harrison, Lindsay Sciglianoi as her daughters and Andy Rees as son Rick who is Shelley Parker's boyfriend when we first meet her, all wild caricatures straight off the comic pages.
The Parkers are much more naturalistic, becoming more so as the production progresses. Georgina Hagen is Shelley, from a horror becoming a sweet ingénue, Lauren Ward Meredith, ever more likeable as she looks after Edgar but still cool to her husband for whom the shutters came down years ago.
Matthew White as vet Parker has all our sympathy as the hubby whose conjugal pleasures are denied him and, when restoration is promised with a return to the days of their courtship, there's a return to a glitterball dance hall and tinselled frocks for a lively moment of happiness.
Russell Wilcox's Sheriff is a solid centre, bridging the various styles of the production, with Nolan Frederick, among other roles, playing a slaughterhouse man and a farmer joined by others doubling as the Mayor and other members of the community, and then appearing like a cross between drag queen and a figure from a renaissance masque, gorgeously costumed as Mother Nature (or is she part of a shampoo commercial?) to lead an animated lecture in video and live action to demonstrate reproduction to Edgar and Shelley, which on its own is worth seeing the show for.
Then there is Bat Boy. Rob Compton is amazing; a capable contortionist, he can physically give Edgar a distinctive presence and emotionally switch from gently endearing to almost uncontrolled anger. He also sings beautifully.
Vocally, this is a strong company throughout, though they do make so much noise sometimes that lyrics are lost, and they all seem equally fleet-footed in Joey McKneely's lively choreography. Director Luke Fredericks manages to pull the show's disparate elements together, exploiting their contrasts so that they become part of the show's nature. It makes this cult musical great fun.
Reviewer: Howard Loxton