Bat Out Of Hell The Musical
Jim Steinman
David Sonenberg, Michael Cohl, Randy Lennox and Tony Smith
Opera House, Manchester
–

Listing details and ticket info...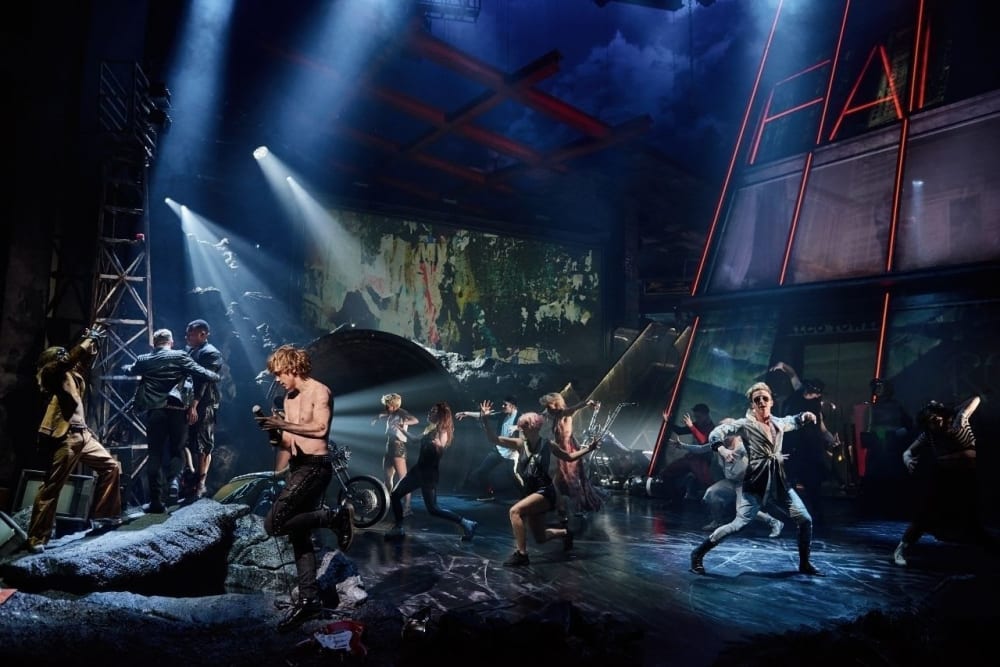 It's 2100 and New York is ruled over by a brutal despot Falco who lives in a towering skyscraper. So far, so contemporary...
In the tunnels beneath the city roam a feral gang, The Lost, consigned to always be aged 18. And from the look of the on-stage messages that tell you all this before this show even starts, all hopes of punctuation have been lost.
While Jim Steinman's Bat Out Of Hell The Musical (to give its full title) is therefore firmly rooted in the future, in fact it is very much of the 1970s. Steinman is the writer and composer of a string of hits for rock icon Meatloaf and in one form or another this eventual world première has been taking shape since then.
Songs like "Bat Out Of Hell", "Dead Ringer For Love" and "You Took The Words Right Out Of My Mouth" were always each a mini drama in their own right, so it's not too difficult to thread them together and hope they hold together as some larger Wagnerian narrative.
Nearly two dozen songs are roped together here and shared pretty evenly around a huge cast, all of whom have the singing ability to match each soaring crescendo.
Rob Fowler as Falco and Sharon Sexton as his wife Sloane are especially adept at translating the music into the sub-plot of a faltering marriage. Likewise Danielle Steers as Zahara exerts a strong and potent voice and stage presence.
American performer Andrew Polec takes the role of Strat, leader of The Lost and a rabble-rousing Rimbaud figure whose poetry is also pegged at 18.
He develops an infatuation for Falco's daughter Raven (Christina Bennington)—and there the story pretty well ends.
Not that it matters because the real star of this show is the show itself, a thunderous, huge-scale and dynamic design by Jon Bausor who appears to have broken down any constraints of the Opera House stage (not one of the largest to begin with) to create a wildly astonishing set on several levels, further enhanced by digital projection. Just one of its set-piece moments allows the cast to heave a car into the orchestra pit. The resulting sight gag would have been the best place to call the interval.
Instead the whole show rolls on at least half an hour too long, so intent is it on becoming a rock opera.
You can take the Bat Out Of Hell, but something a hell of a lot shorter would still have had enough to bat with...
Reviewer: David Upton