Bathhouse! The Musical
Tim Evanicki and Esther Daack
Above the Stag
–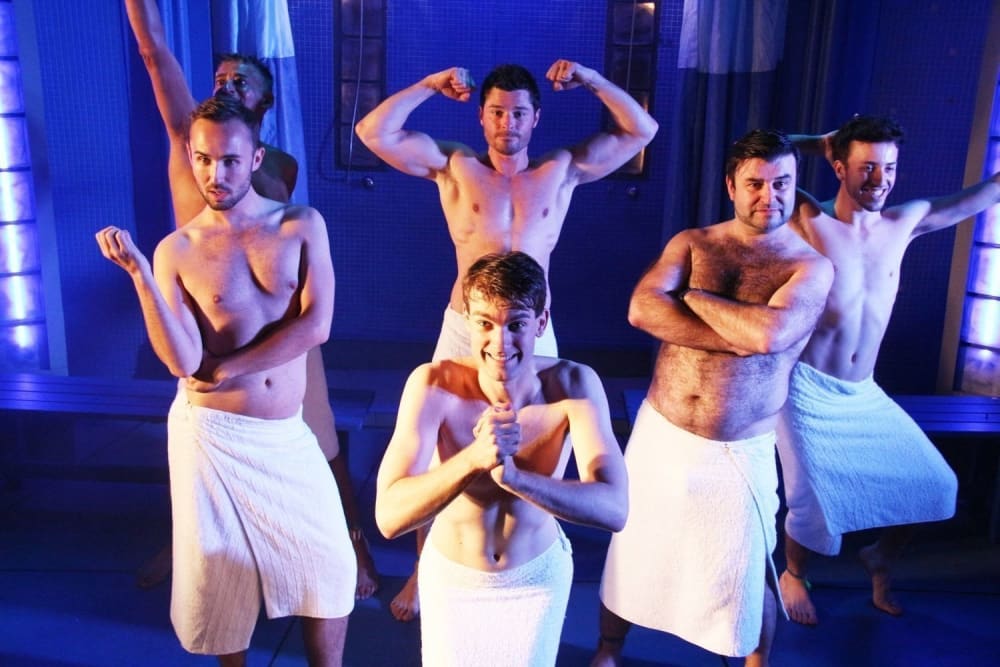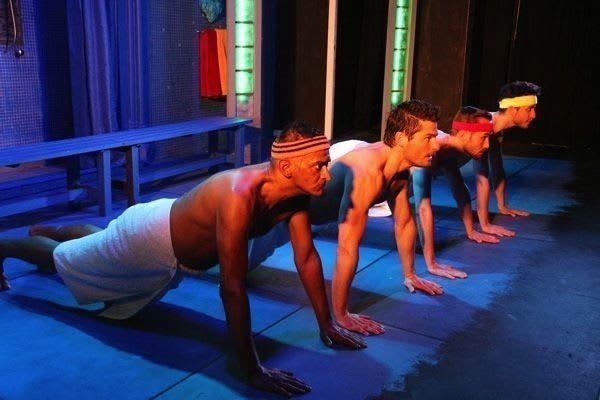 A cult hit in the US following its Florida première in 2006, this is a revival of director Tim Arthur's slightly adapted UK version first seen at Above the Stag's former Victoria venue in 2009. It is a timely, uproarious production for it will be running alongside London's LGTB Pride celebrations.
If Bathhouse suggests an all-revealing line-up of Chippendale lookalikes, you are only half right. Costumes, after the first few minutes, are minimal: white towels or coloured ones—and occasionally none. But this isn't all about muscle-bound hunks. The characters are a nice cross section of ordinary blokes of different hues and sizes, fuller-figured and skinny, Jewish and uncut. Bare-chested or bare-bottomed, they have in common that they are gay and are probably looking for a bit of action.
There is not a great deal of plot. Recently out Billy, new in town and a naïve novice, is visiting his first gay sauna where the reassuringly respectable but disembodied voice of Gyles Brandreth boosts his confidence and inducts him into bathhouse behaviour. What story there is follows him in his early encounters and subsequent visits as he discovers what you can and can't find in a sauna. He may think he's found romance but there's disappointment when he invites his new friend home to meet his parents.
Instead of plot complexity, there is a succession of numbers that range from a sharp look at smartphone dating to a Christmas number that may end up with a red-nosed Rudolph Reindeer on your lap, laughs at the expense of muscle boys or the weird shapes that penises may come in.
There is just a hint of serious criticism of the uncommitted superficiality of sauna culture, but this isn't a social document. Its spirited songs and hilarious humour are meant to be outrageous. This a gay show for gay men who love to laugh at their own excesses and that licenses send-up campness. It is packed with tuneful naughty numbers and some very inventive choreography by Philip Aiden.
You might not regularly encounter a fan dance or a posse of raunchy singing cowboys in your own local sauna (at least not since the days when Bette Midler was a regular entertainer at the Continental in Greenwich Village) but they are all part of gay fantasy used here satirically.
Newcomer Ryan Lynch makes Billy a very likeable boy next door with an engaging, naïve charm, voice sometimes cracking with emotion, while Tim McArthur is his new boa-flourishing furry friend. Those two may be central to the story, but this is very much a company show. Everyone gets his moment and they are great together. Matthew Harper, Alistair Frederick, Joe Leather and Royce Ullah all carry the audience with them through several encores. Which is just as well because some of the best bits of the show are in them.
Above the Stag has always set out to provide theatre for gay audiences, but most have worked well for straight punters too. For this, a gay sensibility would help. If you don't find it funny when someone is described as a Penile Pinocchio (it got bigger every time he lied), object to a bristling beard planting a kiss upon your cheek, or are in any way prudish then I suggest you stay away. If you do have what one character calls "faggy pheromones" you'll probably love it.
Don't wait to book your ticket. Because I couldn't make the press night, I had to wait several days before they could find me a ticket.
Reviewer: Howard Loxton