Baz Luhrmann's Strictly Ballroom: The Musical
Baz Luhrmann and Craig Pearce
Phil McIntyre Live by arrangement with Global Creatures
The Lyric, Theatre Royal Plymouth
–

Listing details and ticket info...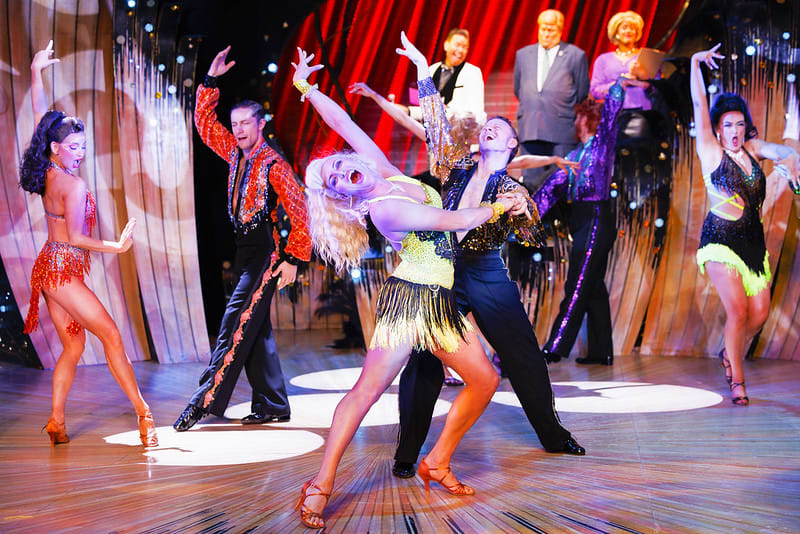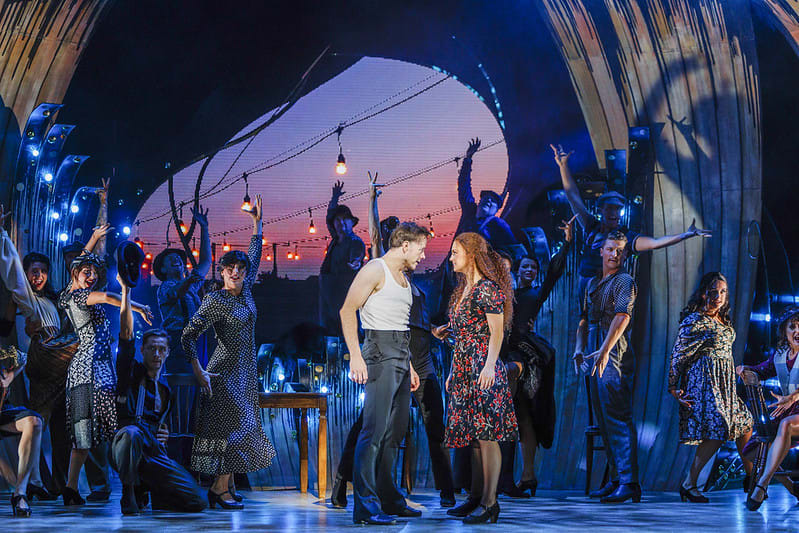 A pedestrian and predictable reach-for-the-stars story wrapped in sequins, rictus smiles and plenty of vests, Strictly Ballroom: The Musical is clearly popular with nigh-on full houses.
Strictly Come Dancing judge and sometimes musical madam Craig Revel Horwood directs the flamboyant and necessarily camp stage version of Baz Luhrmann's 1992 film while his and Jason Gilkison's fabulously flawless choreography shines amidst glitz and misogyny, dodgy wigs and competition corruption.
It is all very brash and crass, maybe typical of '90s Australia, as the seedy world of routine ballroom championships is challenged by rebel in shiny shoes Scott Hastings (former Strictly professional Kevin Clifton). Born to dance and fulfil his mother (with Michelle Buckley ably jumping into ailing Nikki Belsher's lurex leggings midway on press night) Shirley's legacy, the hot-housed hoofer is set on breaking the mould with daring dance moves of his own.
Shunned by his long-time partner and with mum and teacher frantic to find him a winning pairing, Scott stumbles upon dowdy Fran (Maisie Smith, EastEnders' Tiffany Butcher and Celebrity SAS) from the beginners' class.
Clifton has all the moves as may be expected and his singing and acting aren't bad either, while actress Smith impresses with her dancing and her voice is sweet. The pair's hours of practise and burgeoning romance is the quietly humorous and engaging counterpoint to the boisterous ballroom and frenzied strutting elsewhere.
The dynamic ensemble swagger and shimmy tirelessly towards the big showdown with corrupt Trumpesque judge Les Kendall (Quinn Patrick) eliciting X-rated favours from would-be winners, Hastings senior (Mark Sangster) dad-dancing in socks and sandals while harbouring a secret and Grandma (Karen Mann) giving homely advice (when not blowing a trumpet).
But stealing the show is Jose Agudo as Fran's dour father, whose slinky hips and Cuban heels thrill with a paso doble to mesmerise.
The live band is tight, serving up a mix of original songs and familiar numbers such as "New Steps Nightmare", "Time After Time", "Love Is In The Air","Tequila" and "Beautiful Surprise". Foot-tapping stuff and a culminating with a great full audience boogie encore.
Mark Walters's costuming is both extravagant and odd by turns. Sexy, shiny, sassy and downright fabulous dance outfits juxtapositioned with ill-fitting wigs, Madonna bras and greying Y-fronts add interest, while his tremendous set is so so clever. Bare dance studio boards sweep up in a towering curve, sliding out in sections and topped with berry-like lighting which, designed by Richard G Jones, adds atmosphere and change with vibrant or pastel colours. Very simple but stunning.
The plot is paper thin, the characters stereotypical, the singing nice but this is all about the dancing—and there is nothing there to disappoint the fans.
Reviewer: Karen Bussell