Bear and Butterfly
Annie McCourt, based on an original story by Gordon Poad
Theatre Hullabaloo and Theatre by the Lake
Gala Theatre, Durham
–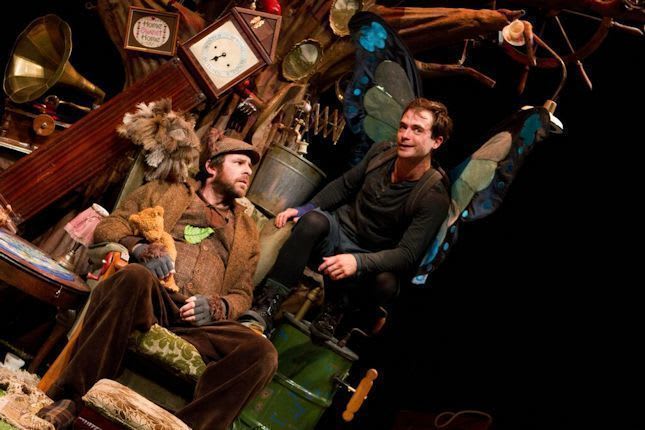 Aimed at 4- to 7-year-olds, Bear and Butterfly has a very simple story.
It's spring and Bear, clutching (of course) his teddy bear, is waking up from his hibernation. We watch as he goes through his waking-up routine in his very Heath Robinson (perhaps one should say Wallace and Gromit nowadays?) house with its shower, a cuckoo clock which tells not the time but the seasons, automated kettle and toaster, and toilet (hidden from view but audible!).
Into this hive of activity creeps a little green caterpillar and soon Bear and Caterpillar become fast friends, with Bear telling stories of his past—in particular how he lifted a killer whale above his head!
Watching over all this, from the moment the audience walk in, is a cello-playing owl (composer Simon McCorry) who accompanies the action throughout.
Spring changes to summer and the little green caterpillar transforms into a beautiful blue butterfly. Now he can go off on adventures and tell his stories to Bear. How will this affect their friendship?
As I say, very simple, but also very engaging. And not just to children but to the adults in the audience too.
The important thing, of course, is that the kids enjoyed it. They loved the physicality (lumbering bear, slithering caterpillar and soaring butterfly), the funny machinery, the stories, the friendship and, of course, the toilet joke.
And, of course, as in all the best children's theatre, the actors (Micky Cochrane as Bear and Robert Welling as Caterpillar / Butterfly) totally inhabit their roles, not just as a bear or a caterpillar but as this bear and this caterpillar, each with his own individual quirks and characteristics.
Coupled with high production values and meticulous direction from Dani Parr, this is a show which audience members young and old will thoroughly enjoy.
This performances was part of the TakeOff Festival of Children's Theatre. The show now travels to 32 venues across England until 24 December. Details from the Theatre Hullabaloo web site.
Reviewer: Peter Lathan