Bear
Andy McNamee
Paulden Hall Productions
Old Red Lion Theatre
–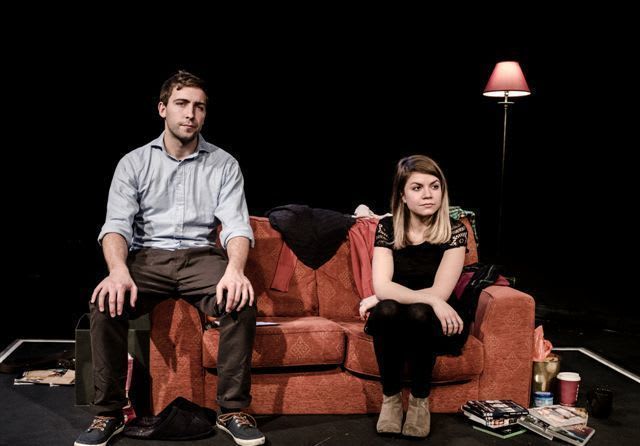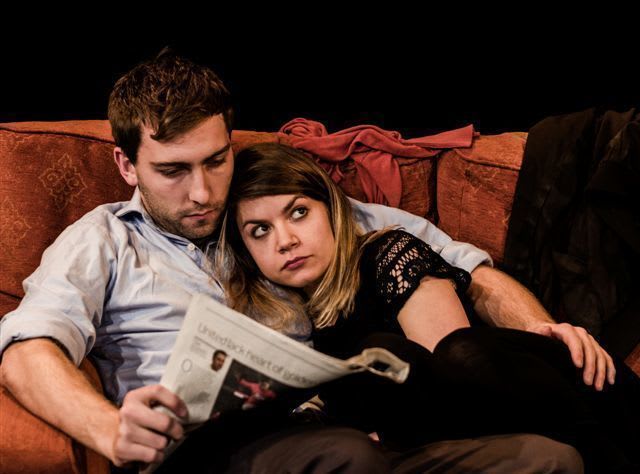 This one-act two-hander, originally devised and developed in 2012 alongside James Harkness and Aisha Fabienne Ross in the two roles, is subtitled "The Tragedy of a Woman Who Gave Birth to a Grizzly Bear". That is a pretty accurate description except that for most of the time it feels much more like a comedy.
The actors begin by telling the audience that this is a play about ordinary people and about co-existence and that it is one in which they get you (the audience) to do things too. Don't be put off by that little gimmick, they don't ask you to come down on stage and do anything gynaecological, not even baby-minding, though various members of the audience are asked to contribute a small piece of narrative or an interjection to be read from cue cards into a microphone—it is quite painless!
He (Michael Gilhooly) and She (Anne Wheatley) are real lovey-dovey partners with lots of amorous palaver when she sees him off to work in the morning, though the arrival of bear-baby does reduce the attention that is given to daddy.
She takes the idea of giving birth to a bear in her stride. Her blue-eyed boy doesn't handle it quite so calmly, and there is just a hint that they might do something about it. In fact things aren't so different from the domestic scenario of having an ordinary infant, though the media wouldn't be so interested unless you are a Royal or a Beckham nor so many of your family and friends openly question the wisdom of letting it happen.
Though there is this wry angle on parenthood and media reaction, I don't think there is any obvious analogy intended. The show is what it is and as matter-of-fact as those cue card contributions. It is simple and straightforward and that's why it works and because it is beautifully played by the two actors who have a great sense of timing, are able to carry on a scene without dialogue and have a definite chemistry between them—and between the characters, though that gets into trouble when papa starts thinking about zoos, though his biggest transgression is probably at worst a fanciful dream, at best a nightmare.
The dramatist / director and assistant director George Bancroft-Livingston place it all round a single red sofa, every prop close to hand (including cue cards and microphone) with a hook on the wall to facilitate a quick change. The whole production gets support, especially in non-verbal passages and scene breaks to mark change of time or location, from Angus MacRae's original music.
It is not all laughs, though there are many. Be ready to be touched and prepared for the sombre but you won't find it boring.
Reviewer: Howard Loxton