Beasty Baby
Devised by Sue Buckmaster and the company
Theatre-Rites and Polka Theatre
Polka Theatre
–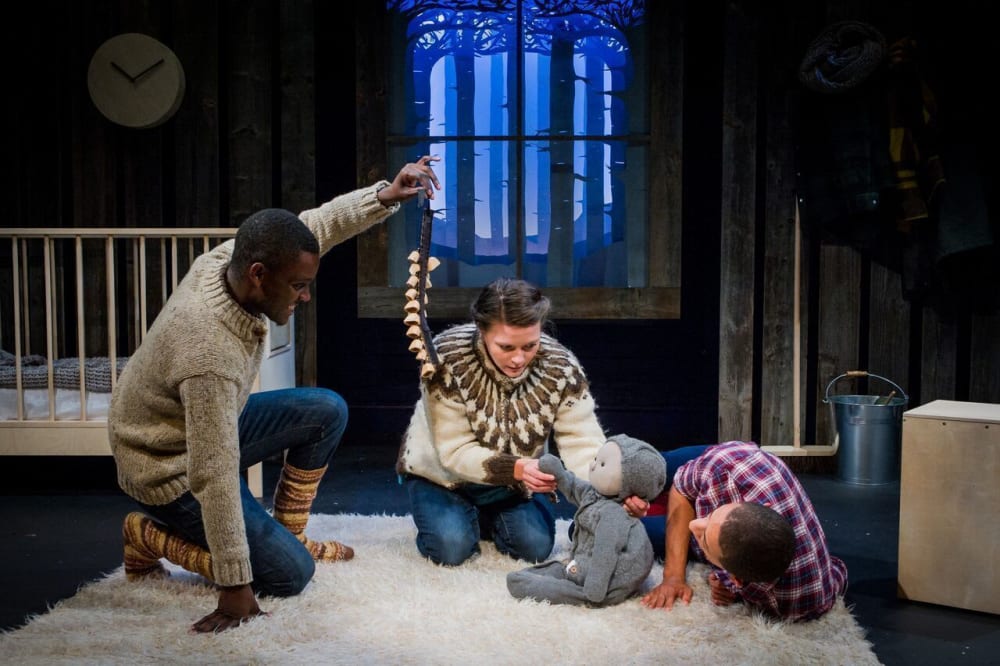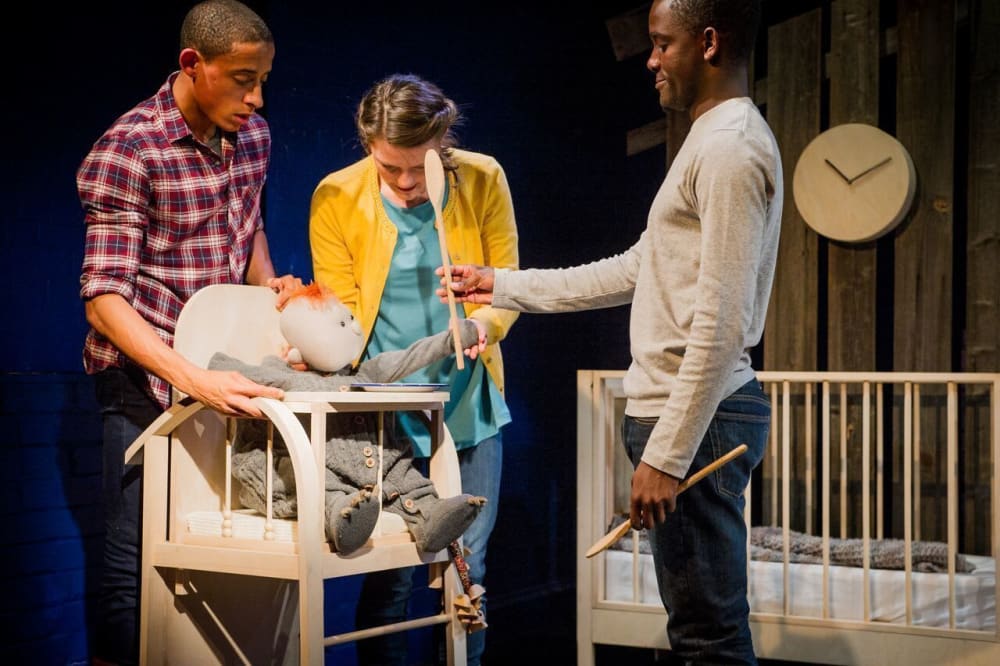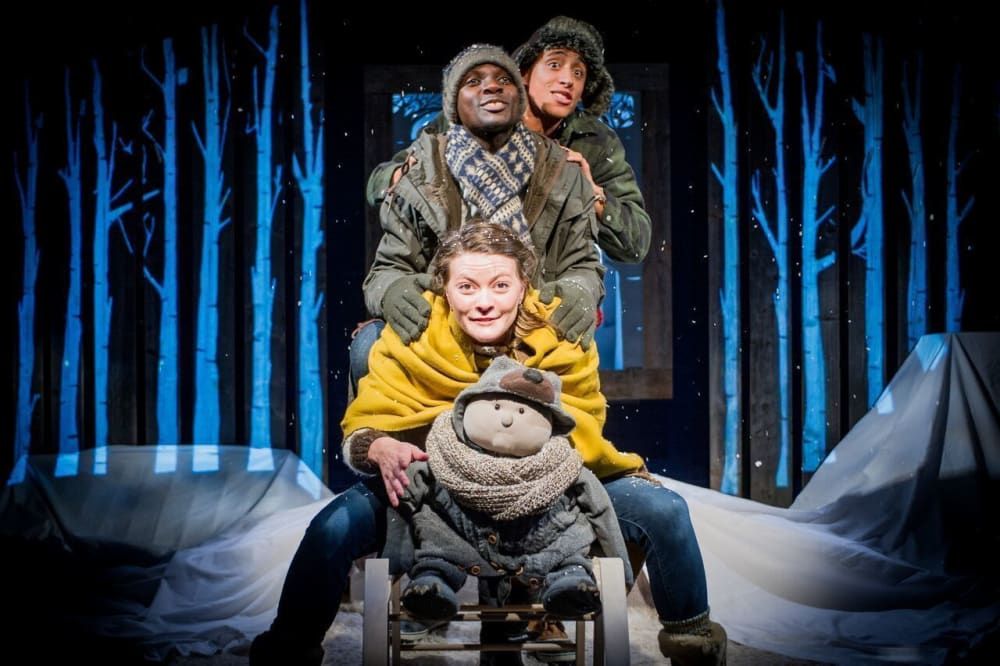 This delightful piece for 3- to 6-year-olds is wonderful in its simplicity and will captivate grown-ups as much as its target audience.
In the Polka's play space outside the Adventure Theatre where the play takes place, a mural of a wintry landscape of snow and fir trees shows what's in store. Designer Verity Quinn's set presents a wooden cabin with a window that reveals a forest of silhouetted trees against the sky.
Three performers enter wrapped up for winter weather in boots and scarves and woolly hats—we're somewhere cold and northern: Canada perhaps or Scandinavia.
A lady is first. She's got a bucket and a broom and starts to sweep the floor clean. Two young men carry in furniture. They must be moving in. It's all stuff for a baby: cot, high chair, a nappy-changing table and a clock to go up on the wall. When it's all in place, one of the actors turns to the audience and suggests "Imagine we have a baby"—and they then begin to mime one.
That's the only spoken line until a lullaby much later, but there is a continuous, silent dialogue of looks between them and glances out to the audience that include them.
There is lively music composed by sound designer Jessica Dannheisser. The recorded track is enhanced by live musicianship when actor John Pfumojena, whose smile alone would win the audience over, takes down the wall clock to play on the mbira (African thumb piano) hidden inside it.
His colleagues are Sian Kidd, who also voices the baby, whose wails eventually turn into words as he masters language, and John Leader, who's adept at rapid nappy changes and shows of well-honed balance skills. All three are engaging actors, skilled in mime and puppetry and meticulous timing, who work in perfect harmony.
Those puppetry skills are needed for, when their mimed baby is put to bed and then dawn comes with its wake-up birdsong chorus, it is taken from its cot as puppet: a knitted romper suit with stylised baby face that the actor-puppeteers make wonderfully expressive.
They all take turns at silencing his mewling, discover dampness, stinky nappies (the audience especially seems to love the poo bits), spoon feeding, bedtime tantrums, those first steps, a refusal to go on wearing nappies, gradually words, first one or two and then a gabble.
Baby turns into tot and furniture is reconstructed to match his development and provide props to play new games—even a xylophone to add more colour to the music.
With the help of some bed sheets, the grown-ups turn things into a winter landscape on which to arrange toy trees and houses and when what was a high chair turns out to be a sledge, it's time to exit to outdoors.
The lights go down; you might think this was the end—but no, they go up again and it's outside. There are trees now in front of the house. It is time to go tobogganing as the snow begins to fall.
The vocal reactions of audience members at various points show how completely Beasty Baby absorbs them right through nearly an hour of performance. Typical of how beautifully director Sue Buckmaster and her cast attune this to their young audience is demonstrated in the way that, after the enthusiastic clapping that greets their final call, John Leader turns not to the audience but to the Beasty Baby and says, "that all. We go home now."
He may throw food about, sick up over your favourite sweater and bawl at bedtime but this baby is irresistibly endearing and, though too good to be true, these actors make you feel it is a real one.
Reviewer: Howard Loxton