Beatrice and Benedict
Hector Berlioz, William Shakespeare and Amanda Holden (translator)
Seattle Opera
Marion Oliver McCaw Hall, Seattle Center
–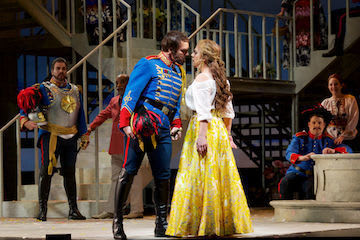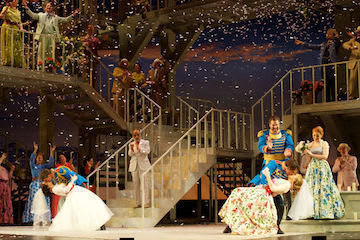 I really didn't get to see Berlioz's Béatrice et Bénédict at the Seattle Opera, based on Shakespeare's Much Ado About Nothing; Berlioz's opera cuts a lot of material (necessary in the case of any musical adaptation) from its dramatic source.
One of the great losses, and probably a mistake by Berlioz, was the entire elimination of the Claudio/Hero subplot in which Don John, for hatred of Claudio, falsely accuses Hero of being stale, that is, not chaste, thus potentially ruining both her wedding and her reputation. That decision made Dogberry, one of Shakespeare's great comic inventions, unnecessary so out he went.
What remains is the main plot device in which both Benedict and Beatrice have a duel of wits so fierce they can't conceive of their attraction to each other; each is firmly against the idea of marriage. In traditional Shakespearean fashion, all each needs is to be told that the other loves them and is afraid of wooing and they instantly fall madly in love—this time without any benefit of magic potions as in A Midsummer Night's Dream.
However, if Seattle Opera's audience didn't see Béatrice et Bénédict, they certainly saw Beatrice and Benedict, an interesting and intruiging adaptation sung in English in a new translation by Amanda Holden, a joint project of the Seattle Celebrates Shakespeare Festival. This production combined the forces of the Seattle Opera, Seattle Symphony and regional theatre ACT (in the US, regional theatres are major cultural institutions) and restores the Hero/Claudio sublot (and therefore Dogberry, merged into the character of Berlioz's music master Somarone), a choice that adds much weight and much humour to the evening's proceedings.
The best bits are retained: notably a gorgeous nocturne on the subject of love sung by Ursula (Avery Amereau) and Hero (sung by Shelley Traverse, a last minute subsitution and member of the Seattle Opera Chorus since 2015). In order to flesh out Claudio's character, the adapters added music from other work by Berlioz: La Damnation de Faust, Bevenuto Cellini and L'enfance du Christ, including a rage aria for Claudio fiercely sung by Craig Verm.
But the centre of any production of Beatrice and Benedict must be the title couple. And Daniela Mack and Alek Sharder, who sang the roles opening night, were great fun as they tussled and figured out just who loved whom.
This kind of collaboration is just the sort of thing a city-wide festival ought to do—combining the forces of three leading cultural forces to make something new and a good alternative to the original. Purists might object but Seattle Opera's production is faithful to Shakespeare's original vision in a way that enriches both Berlioz and the Seattle Opera's audience.
Reviewer: Keith Dorwick