Beautiful Burnout
Bryony Lavery
Frantic Assembly and the National Theatre of Scotland
Northern Stage, Newcastle
–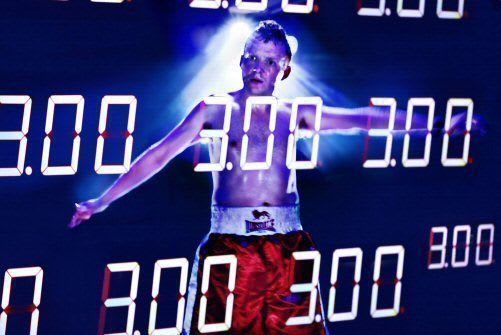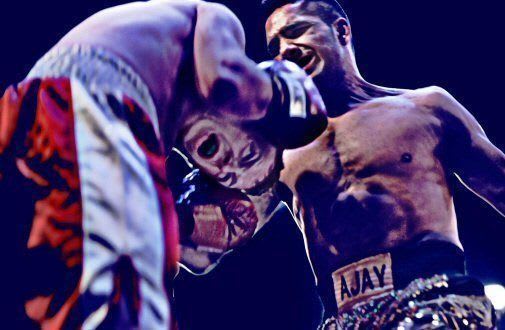 Newcastle has waited a long time to experience Frantic Assembly's unique approach to theatre. The company has never visited Northern Stage before and I have no recollection of seeing it elsewhere in the North East—and I certainly would remember, for their productions stay in the mind for a long time. I still have clear memories of their production of Abi Morgan's Tiny Dynamite at the Traverse in Edinburgh in 2001.
Beautiful Burnout makes an excellent introduction to the company's blend of physicality, music and text and, for the large number of young people in the packed house, the subject matter—teenage boxers of both sexes finding a way out of the drabness of their lives—is immediately accessible.
Writer Bryony Lavery does not try to avoid the ambiguous nature of the sport. Indeed, she confronts it by showing us the effects, good and bad, on two of the Glaswegian teenagers who train in the gym owned by harsh taskmaster Bobby Burgess (Keith Fleming).
We meet five teenage would-be boxers (one a girl) and get to know a little about them. There is no real depth of characterisation here: it isn't necessary. All we need to know is that they are driven to succeed. We meet Bobby Burgess, the man who is God in his gym and who demands total obedience to his training schedule, who can spot a potential star within seconds but who is far from infallible. We meet the mother of one of the lads and watch as she supports her son totally. And we meet a referee whose concern is that "at the end of the day everyone's safe in the hands of this man."
The plot is simple: there are no unexpected twists and turns, no deep psychological analysis, just a focus on the drive to succeed, the dedication needed to do so and three possible outcomes.
Directors Scott Graham and Steven Hoggett use the whole arsenal at their disposal to drive the piece forward: Lavery's short scenes (there are 27 of them) give the play its basic urgency and Graham and Hoggett build on this with a physicality which is as much dance as physical theatre, a compelling score by Underworld, clever use of video (designed by Ian William Galloway) and an amazing flexible but visually simple set by Laura Hopkins.
There is no let up, no moments of quiet reflection: these boxers are on a roller-coaster ride to achieve their ambitions and the audience is carried along with them relentlessly. If the cast members are exhausted by the end, so is the audience and we are left with much to think about. In 90 minutes—a very short 90 minutes—we experience the highs and lows, the joy and pain, the glamour and the danger, all the ambiguities of "noble art."
The theatre was buzzing at the end—a sure sign of a great show.
Reviewer: Peter Lathan