Beautiful Evil Things
Deborah Pugh and George Mann
Ad Infinitum
Pleasance Dome
–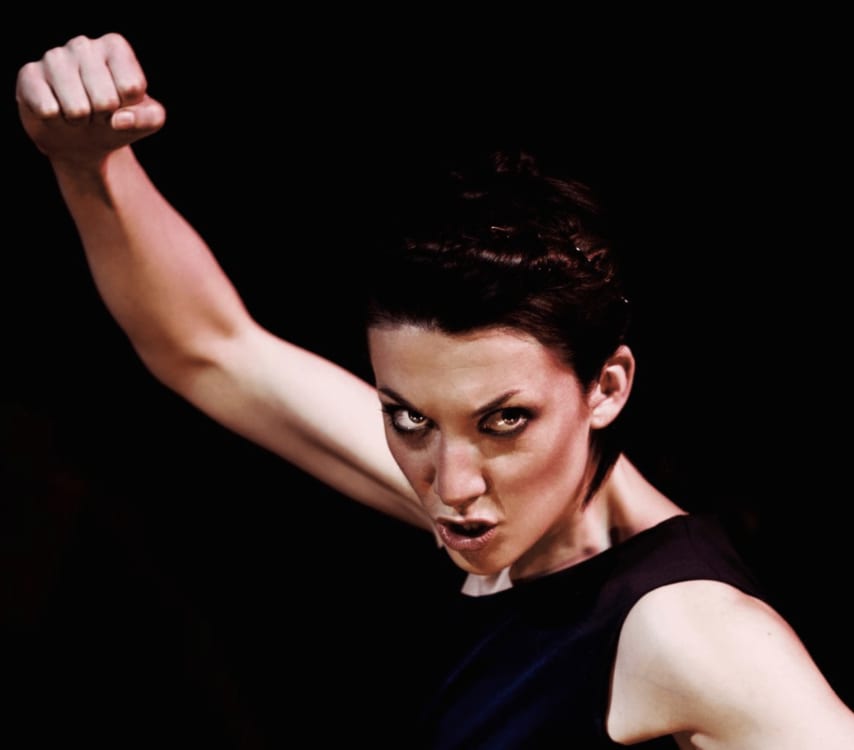 Deborah Pugh gives an acting masterclass in this one-woman retelling of the Trojan Wars as seen through the eyes of Medusa, the eyes that would turn those who gazed into them to stone. But Pugh tells us not to worry as she is wearing contact lenses.
This is a powerful, engaging performance that tells the story of her severed head with snakes for hair that adorns the centre of Athena's shield.
Ad Infinitum always brings socio-political theatre that can "provoke, move and inspire" and the addition of Kyra Pollitt, a BSL interpreter who becomes a second character, is inspired.
So begins this epic tale played out on a haze-filled, simple set with a circle of red wires surrounded by microphones. The stands are inventively used to cleverly become a double-edged axe, spears and arrows.
It's a whirlwind adventure through Greek mythology performed with high physical energy and striking movement with Pugh playing the multiple parts with total belief and breathtaking commitment.
And what stories they are. The battle for Troy; the fight between the Amazon Queen, Penthesilea, and Achilles; the premonitions of Cassandra who is forced to remain silent and Clytemnestra who wants justice for her murdered child.
Directed by George Mann with a thrilling sound design by Sam Halmarack and dramatic lighting by Ali Hunter, this engaging production belongs to the immense, charismatic talent of Deborah Pugh.
Reviewer: Robin Strapp