Beautiful The Carole King Musical
Book by Douglas McGrath; words and music by Gerry Goffin, Carole King, Barry Mann and Cynthia Weil
Theatre Royal Bath Productions, Mayflower Theatre and Curve
The Lyric, Theatre Royal Plymouth
–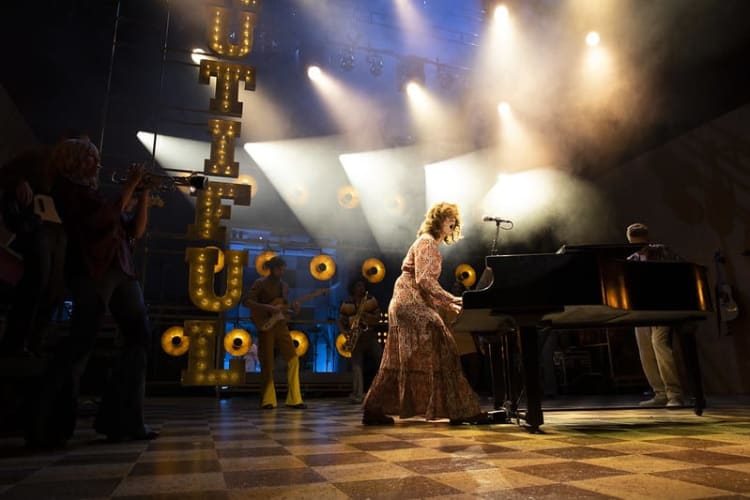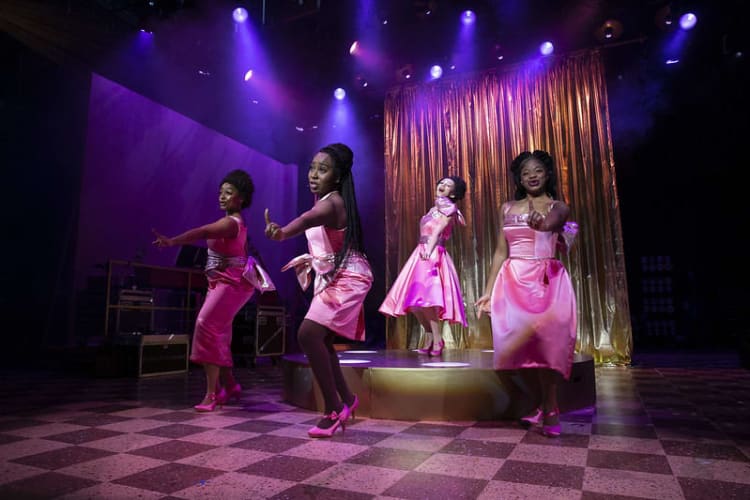 Carole King and her first husband, high school sweetheart Gerry Goffin, were inducted into the Rock 'n' Roll Hall of Fame in 1990 ( as songwriters—King finally made it in as a performer in 2021) having written more than 400 songs recorded by over 1,000 artists, over 100 of which are well-known hit singles performed by soloists and groups such as James Taylor, The Righteous Brothers, Aretha Franklin, the Monkees, Little Eva and the Beatles.
The song-writing superstars' troubled relationship—both professional and personal—is documented in Olivier, Tony and Grammy award-winning Beautiful The Carole King Musical which tracks the child prodigy King from an early radio performance of "Twinkle Twinkle Little Star" through two children, a failed marriage and prolific output to her solo performance at Carnegie Hall in 1971 as her first album "Tapestry" tops the charts for 15 weeks.
Necessarily episodic, the rather pedestrian tale is eclipsed by the breathtaking speed at which Donnie Kirshner's (England International wheelchair curler Garry Robson) factory of sounds at 1650 Broadway, Brooklyn churns out hit after hit, against the clock and in competition with one another.
Molly-Grace Cutler (Olivier Award winner 2020 for The Worst Witch) who is spot-on as a gawky, sometimes self-effacing but determined King resplendent with both silvery tones and strident voice. This is, after all, Neil Sedaka's "(Oh) Carole" (who knew?), British charts topper (no 3) at just 17-years-old with "It Might As Well Rain Until September" and sometime prude having been 'born in the keep your clothes on decade' but creator of countless classics such as "(You Make Me Feel Like) A Natural Woman", "Pleasant Valley Sunday", "Take Good Care of My Baby", "You've Got A Friend", "I Feel The Earth Move", the eponymous "Beautiful", "Will You Still Love Me Tomorrow" and "The Locomotion" to name just a few.
Tom Milner (Waterloo Road's Paul Langley) is the disturbed, charismatic, lost and nasty Goffin whose mental illness is not fully divulged but which manifests in depression, affairs and unpredictability—and the beautiful "Up On The Roof". Counterpointing the angst are friends and songwriting rivals Cynthia Weil (trumpet / guitar-playing Seren Sandham-Davies) and loveable hypochondriac Barry (Jos Slovick) add humour and belters such as "On Broadway", "You've Lost That Lovin' Feelin'" and "We Gotta Get Out Of This Place".
Edd Lindley's costuming evokes the '60s with flares and cheesecloth, minis and boots bursting into glitzy fur trimmings and sequins under the camera's glare while Leah Hill's choreography is somewhat jerky here and there, and Frankie Bradshaw's set sparse.
Add 15 highly versatile musicians and dancers for a high-energy wall of sounds with classics coming hard and fast—often first in embryonic form as the ideas are bandied about morphing into glitzy performances from pastiche popsters including The Drifters, the Shirelles and even Little Eva on rollerskates with Tom Marshall's sound design and Grammy Award-winner Steve Sidwell's orchestrations faultless under strict supervision from Sarah Travis.
A pleasant reminder of superb songwriting.
Reviewer: Karen Bussell