Beautiful—The Carole King Musical
Book by Douglas McGrath, words and music by Gerry Goffin, Carole King, Barry Mann and Cynthia Weil
Curve, Theatre Royal Bath Productions and Mayflower Theatre, Southampton
Curve Theatre, Leicester
–

Listing details and ticket info...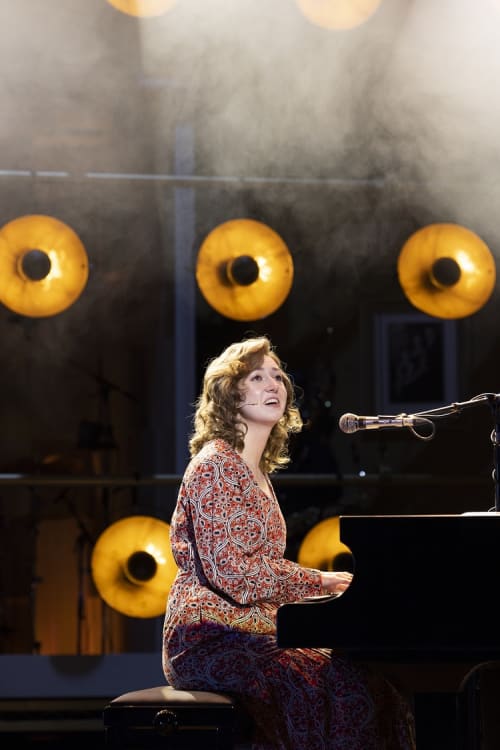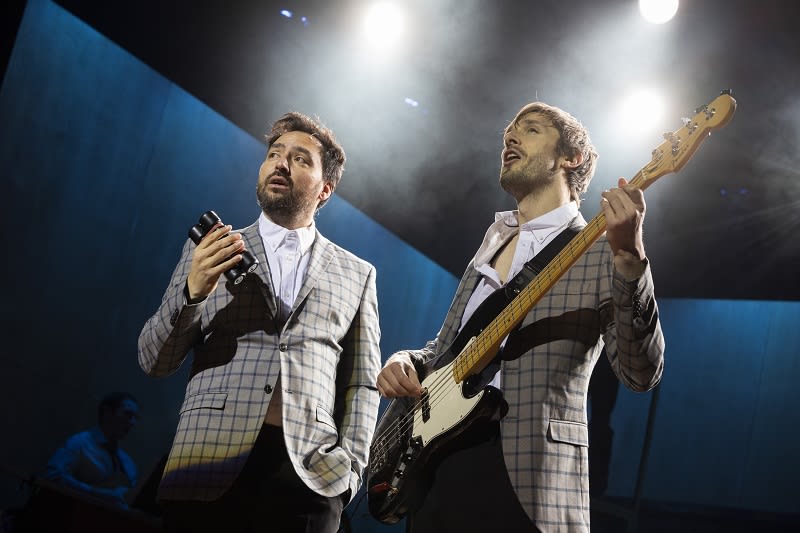 It's probably a safe bet to say that on many people's "playlist of my life", a Carole King song—either as solo artist or composer with her lyricist first husband Gerry Goffin—will feature somewhere.
A new production of Beautiful—The Carole King Musical begins its UK tour at Curve, directed by Curve's Nikolai Foster and co-produced with Theatre Royal Bath and Southampton's Mayflower Theatre. A relatively new musical, opening on Broadway in 2014 to great acclaim and a clutch of Tony awards, it made its way over the Atlantic to the West End in 2015.
Beginning and ending with King's performance at Carnegie Hall following the success of her Grammy award-laden and influential Tapestry album, the book focuses on Carole's teenage dream of making it as a songwriter. Sixteen-year-old New Yorker Carole (an astounding Molly-Grace Cutler) calls on music publisher Donnie Kirshner (Garry Robson) at 1650 Broadway studios who buys her song "It Might As Well Rain Until September". Meanwhile at college, she finds a new songwriting partner, as well as love, a baby and marriage in Gerry Goffin (Tom Milner). Together they write hit songs for Donnie, aided by the competitive edge provided by another songwriting couple Cynthia Weil (Seren Sandham-Davies) and Barry Mann (Jos Slovick). The hits just keep coming: King / Goffin with "Up On the Roof" and "The Loco-Motion", and Weil / Mann's "On Broadway" and "You've Lost That Lovin' Feelin".
Goffin's philandering and eventual breakdown put too much pressure on the marriage and King takes her two daughters and moves to LA. From there, recording history was made with her album Tapestry.
Douglas McGrath's book isn't particularly in-depth emotionally, but it doesn't need to be—the songs are the emotional force and give context to the narrative. Witty one-liners are woven throughout, usually delivered in the enjoyable sparring between Cynthia and Barry (reminding me of a Manhatten-era Woody Allen), although Carole gets a look in too with a nice turn in self-deprecation.
Managing a working relationship with your romantic partner is not easy and the story of each couple's difficulties is exposed. Cynthia and Barry made it, Carole and Gerry didn't but all these emotions add to the special musical alchemy that produced their respective, and hugely impressive, discographies. Carole and Cynthia's different approaches to love and life also provide interesting counterpoints, and the sacrifices made to family and career in a tough industry.
It is the vocal performances by the cast that shine the brightest, and all are formidable quadruple threats as they sing, dance, act and play instruments throughout. Frankie Bradshaw's functional set gives space both to the practicalities of the performers dancing with their instruments and the creativity flowing in the studio and at home, from Carole and Gerry and Cynthia and Barry. Some songs are shown at the embryonic stage of creation, then performed by The Shirelles and The Drifters and Foster's adoption of this "unplugged" style works well. Personal favourites were The Righteous Brothers (Dan-de-Cruz and Peter Mooney) with Weil/Mann's "Lovin' Feelin'" masterpiece, and King / Goffin's rockier "Pleasant Valley Sunday".
Costume designer Edd Lindley has clearly had fun: The Drifters' cloud suits are inspired, The Shirelles' fur-trimmed silver lamé dresses swirl with a life of their own.
All in all, this was a wonderful wallow in great music, with audience engagement and appreciation set at maximum "11". I'll take my cue from one of Carole's classics to say this production is some kind of wonderful, with full justice done to an achingly good collection of songs.
Reviewer: Sally Jack