Beautiful – The Carol King Musical
Curve Production
Theatre Royal Bath Productions and Mayflower Theatre present the Curve production
Sheffield Lyceum
–

Listing details and ticket info...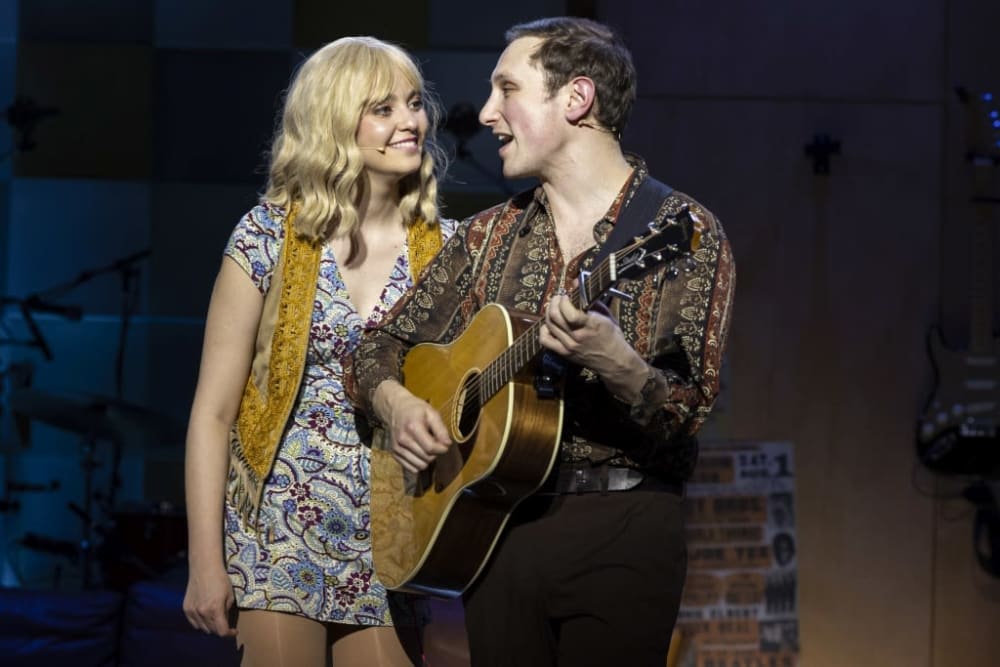 Beautiful: The Carole King Musical is a superb extravaganza charting Carole King's rise to fame in the '60s and '70s while providing an opportunity for older members of the audience to revisit the music of their youth and the young to discover and appreciate a remarkable talent.
The narrative line takes us from King's early encounter with music publisher Donnie Kirshner who starts her on the road to success, her association and marriage to lyricist Gerry Goffin, long friendship with rivals Cynthia Weil and Barry Mann, gradual breakdown of the marriage with Goffin and development as a singer as well as composer.
Each episode in her life is accompanied by a familiar song: "It might as Well Rain Until September" at the start of her career; "Take Good Care of My Baby" after the birth of her child; "You've Lost That Loving Feeling" and "Will you Love Me Tomorrow" when the marriage is breaking up through to a declaration of independence in the much later "You Make Me Feel Like a Natural Woman" when she moves to San Francisco.
Every member of the talented company contributes to the instrumental content and sings and dances with energy and enthusiasm. Molly-Grace Cutler is a charmingly modest Carole who fleshes out the emotional range of the role, accompanies herself on the piano and sings powerfully or plaintively as the songs require. Tom Milner, as Goffin, the villain of the piece, explores a complicated character, an ambitious but weak man who is easily stressed, thrashes out when frustrated and ultimately succumbs to depression.
In contrast, the secondary couple, Cynthia and Barry, while not without their problems, add a lighter touch and some humour to the performance. Jos Slovik is Barry, an anxious hypochondriac, which provides some amusement, but musically an excellent singer who also plays guitar, bass and keys. Cynthia is played by Seren Sandham-Davies, a lively and attractive performance which shows off her dance skills and a powerful singing voice. She plays trumpet and guitar in the company sequences.
Important support is given by Garry Robson as Donnie (percussion) and Claire Greenway as Carole's mother Genie, who finds the comic potential in role as well as playing keys and saxophone.
As the narrative proceeds, we meet the various groups who sing the compositions that Carole writes. These include The Shirelles, The Drifters and Swing. These groups are performed by members of the company suitably dressed in costumes of the day and add an exciting dimension to the whole.
The set by Frankie Bradshaw is a large, open area representing a recording studio or performance venue which provides plenty of space for the company dance routines (choreographer Leah Hill) and is subdivided at intervals to create smaller sets for domestic or office spaces. Director Nikolai Foster draws the whole together with consummate skill.
It is impressive to see so much talent on display and a company with such ability and varied musical and acting capability. A thrilling theatrical experience, especially for the many fans who attended.
Reviewer: Velda Harris