Beautiful, The Carole King Musical
Douglas McGrath (original book)
Paul Blake Sony/ATV Music
Sunderland Empire
–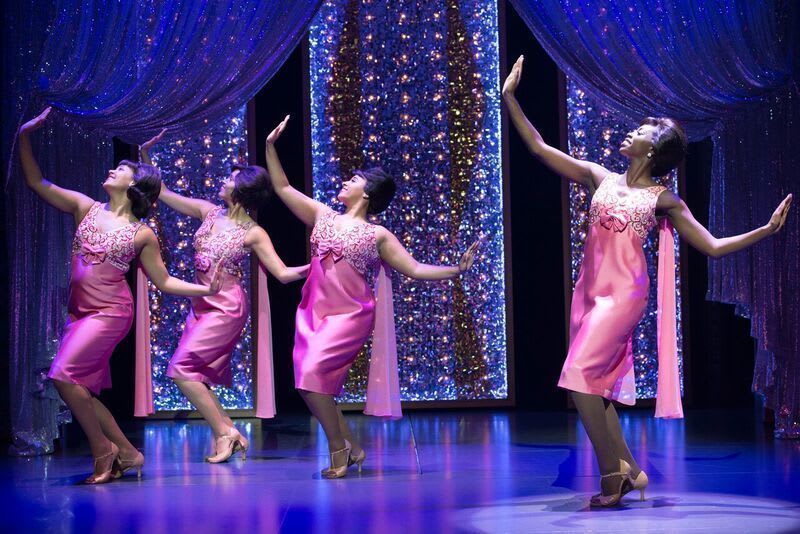 Carole King has written (and performed) so many brilliant songs that it would take a dumbo to create a naff musical about her. More than 1,000 artists have interpreted her work, with in excess of 100 hit singles resulting.
Try a small sample and see how each one immediately floods the head with sound: "Will You Love me Tomorrow?", "Take Good Care of My Baby", "The Loco-Motion", "It Might as Well Rain Until September", "Up on the Roof", "You've Lost That Loving Feeling"… and onwards.
Impressive? No argument. And anyone who doesn't have the album Tapestry on their shelves has no right to be called a serious record collector.
My normal sniffiness about the artifice of musicals and / or theatre plays flimsily built around a famous music artist's backlist is mainly blown away here. I accept this production is an indulgence in nostalgia and you could hear the soft sighs emitted by a packed Sunderland Empire audience as yet another golden oldie was performed and we all thought, "they don't make 'em like that anymore!" (They do, of course.)
But only a curmudgeon would not be swept up. And, let's face it, Sunderland folk need cheering up right now. Less than a mile up the road, the football team was at that moment suffering another humiliating home defeat (0-3 to Aston Villa) on their horrific plummet down the divisions.
The recently renovated Empire boasts a massive stage, allowing a flashing eight-metre-high, three-dimensional backdrop constantly changing from one impressive lighting display to another. Everything seems to glide into place effortlessly: chairs, tables, desks, settees, sideboard, all slide noiselessly on and off with not a stage hand in sight.
This is one of the most well-oiled shows I have seen.The director is Marc Bruni. At times, a character mentions a famous singer—Neil Sedaka, say—only for the aforementioned to miraculously appear, sing two lines of a famous hit, and be gone. Blink and you miss it.
The structure is conventional, built round King's rise to fame (her mom wanted her to be a teacher), marriage to Gerry Goffin, her talents blossoming first as songwriter then also singer, plus the couple's close friendship with fellow artistes Cynthia Weil (Amy Ellen Richardson) and Barry Man (Mattew Gonsalves)—and every few minutes we get a song. These four are the only four characters to speak of and only Goffin (Kane Oliver Parry), suffering various demons, is given any real complexity. King herself (who of course is still alive) comes out fairly unblemished. No-one seems to do many drugs.
Bronté Barbé's Carole King has a stupendous voice bigger than her diminutive self and it does King proud, but even her own renditions risk being outdone by the singing and choreography (Suzanne Thomas) of the ensemble as they summon up King's songs as done by The Righteous Brothers, The Drifters, The Shirelles, Little Eva and et al. The ensemble look, sound and move just right, though the Empire audience were a mainly a bit long in the tooth to be dancing in the aisles.
It's a huge undertaking—I counted 68 people credited including the eight-strong live orchestra. There are more costume changes than atoms in the universe and we even get a promise of a game of strip poker (sorry—cut off before its prime).
Go see it and, as long as you're not expecting Ibsonian complexity, let its delights wash over you. I leave you with a small oddity: Neil Sedaka (an early boyfriend) wrote his big hit "Oh Carol!" for Carole King. She returned the compliment by writing a song called "Oh, Neil!" for him. Now whatever happened to that?
Reviewer: Peter Mortimer