Beautiful Thing
Jonathan Harvey
Above the Stag Theatre
–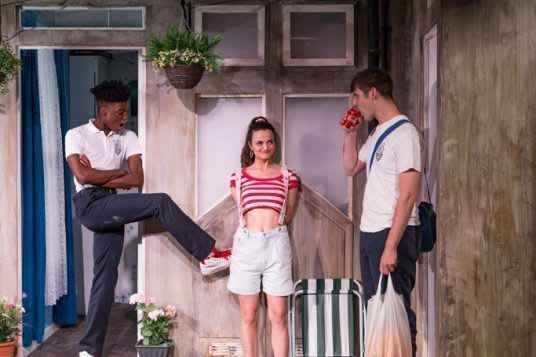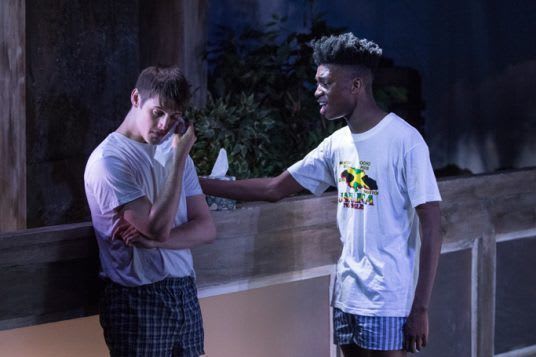 London's only full-time professional LGBT theatre has moved a little way up the railway line to face M16's Vauxhall back door and opens its sparkling new premises with a production celebrating the 25th anniversary of this play, which premièred at the Bush in July 1993.
When this play was written, the gay age of consent was 21, Section 28 in force. Things have changed a great deal in the past quarter century in terms of gay visibility, rights and acceptance but this story of young love on the Thamesmead council estate hasn't dated. Teenagers today may have computers and smart phones and even gay role models but they still have to deal with their own self-discovery and acceptance and Jonathan Harvey's play explores this with sensitivity in a play that is more about love than sexuality.
It takes place in 16-year-old Jamie's bedroom and on the walkway outside the flat where he lives with his mother Sandra and her current boyfriend. In the next flat on one side lives Leah, who has been popping pills, got expelled from school and lives life to the sound of Mama Cass. On the other side is Ste, a schoolmate, and his abusive alcoholic father and dealer brother.
Jamie is a bright boy, more bookish than sporty, but he likes Ste and even kicks a ball around with him. When Ste's dad drunkenly beats him up, Sandra lets him stay in their place and bunk up with Jamie. At first they sleep head to toe but, when Ste moves his pillow to the other end, feelings begin to express themselves. Though that scares Ste off at first, love blossoms: Beautiful Thing was probably the first mainstream play on a gay theme that had a happy ending.
This isn't only a love story. It is also a picture of how challenging life can be in the real world of estate life, though presented with great humour. (Intriguingly, in 1993, they were also having a tough time on the other side of the river: the company owning Canary Wharf, towering in the distance on David Shields's set, had gone bankrupt in the 1992 crash of the commercial property market.)
Director Steven Dexter gets sensitive performances from Joshua Asaré and Ryan Anderson as Jamie and Ste but Phoebe Vigor's Leah hides her hurt under a coarser, more raucous exterior which makes her outrageousness funny. Kyla Frye's shrill-voiced shouting as Sandra suggests the impatience of a single mother who wants to get on with her own life. Very sexy at 35, her fiery spirit and vitality captivate younger boyfriend Tony (Kieran Mortell) with his different accent and different background but she has her own plans that don't include him. Jamie she does make time for when she realises how much he needs it.
The show ends with its own rainbow-hued flourish making a joyful opener to a new stage in Above the Stag's history. The new theatre offers more seating but the same friendly welcome. Its raked auditorium has good sightlines except for action at floor level extremely downstage. Softening its hard surfaces would improve the acoustics but these are early days: only bar and theatre (and glamorous loos) are open so far. A smaller studio theatre and rehearsal, community and exhibition space are all planned.
Beautiful Thing is the first of a series of Jonathan Harvey revivals planned for the future and will be followed by Grindr—the Opera, E M Forster's Maurice and The Penetration Play by Winter Miller before this year's pantomime.
Reviewer: Howard Loxton