Beautiful Burnout
Bryony Lavery
Frantic Assembly and the National Theatre of Scotland
Crucible Theatre, Sheffield, and touring
(2010)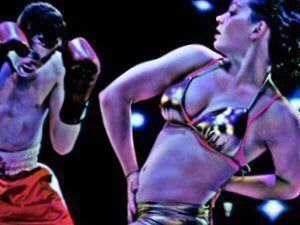 I would urge anyone living in Sheffield or nearby to catch Beautiful Burnout before it ends its run. I saw it in a full house of school students, who were completely knocked out by the music and choreography, undisturbed by the everyday language and quick to pick up on the metaphors of staging.
OK, it's about boxing, an activity that I have had huge reservations about (think the brain damage to less publicised participants than Mohammed Ali). But Beautiful Burnout impresses because it explores the acquiescence of young people in submitting to a severe training regime in the hope of glory. Not so different, of course, from athletes currently preparing themselves for the Olympics.
Set in Glasgow, we meet a small group of would-be professional boxers (including one girl) who train under the exacting regime of 'I am God' Bobby Burgess, who can spot a winner in seconds and demands absolute obedience to his training schedule. We follow the group through their punishing training exercises, become familiar with them as individuals whose personalities are reflected in the way they fight; and eventually witness a 15 round set to between two members of the original group.
Bryony Lavery provides a well structured play and convincingly differentiated characters; she has a good ear for current street parlance and teenage values.
'Things I give up for this. Shoplifting. Borrowing cars. Smoking. Tobacco and weed. Girlfriends. I still dae shagging But only on Friday and Saturday'.
But the thrill of the performance lies in the superb direction and choreography by Scott Graham and Steven Hoggett and the pumping rhythmic music by Underworld.
The energy and athleticism of the performers is impressive and exciting to watch. The cast are completely convincing in the boxing and training sequences and persuasively distinguish between a hook, a straight punch and an uppercut. Several gyms are credited in the programme. The directors and cast take the acquired training and boxing skills into a different dimension by tipping them over into energetic and creative choreography more reminiscent of pop videos. This is why the largely teenage audience at the Crucible press night were so enthusiastic about the performance. 'I thought it was going to be like a pantomime', said one young critic, 'but this was brilliant'.
This is very much an ensemble production with each actor giving 'two hundred per cent', and undoubtedly becoming very fit in the process. Ewan Stewart provides a solid anchor as Bobby Burgess, the boxing trainer; Taqi Nazeer makes the most of the over-enthusiastic, irrepressible Ajay Chopra; and, in a company of excellent dancers, Vickie Manderson is outstanding.
A simple effective set, designed by Laura Hopkins, represents the training gym and boxing ring and adapts cleverly into the domestic scenes. Sound, lighting, and unobtrusive video effects complement and enrich the overall production design.
The most exciting thing about Beautiful Burnout was its reception by the audience of young and (presumably) inexperienced theatre goers. For them it was 'brilliant', especially the choreography. This is exactly the kind of play, because it is honest about teenage experience and the kind of language they use, that will build the next generation of theatre goers.
"Beautiful Burnout" continues at the Crucible until 13th November, then transfers to the Minerva Theatre, Chichester from 16-27th November.
Reviewer: Velda Harris