Beautiful House
Cathy Crabb
Studio Salford, The King's Arms, Salford
(2007)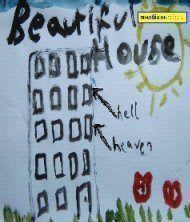 Local writer Cathy Crabb, whose plays have previously won awards at the 24:7 Theatre Festival and the Buxton Fringe, has written Beautiful House which is now playing at Studio Salford, with the help of a grant from the Arts Council,.
Middle class couple Bridgette and Ronnie have moved from a large house in the country to a tiny inner-city flat to allow their seriously-ill daughter to move into their house. Their new neighbours are working class couple Paula and Otis, who live in the flat below with their little girl. As the poster picture implies, the poorer couple are perfectly happy and contented with their life for most of the time, whereas their richer neighbours are constantly tortured by their lives.
The play is billed as a comedy, and it is the comedy moments that are by far the most successful with some really good funny lines. When it tries to get more serious it tends to become drawn out and repetitive and the dialogue starts to get stilted and unnatural or drifts into overlong monologues that leave whoever else is on stage nothing to do but to smile and nod when they feel they should be speaking. Interestingly from a female writer, the male characters are usually the calm, rational ones who hold everything together while the women panic unnecessarily, jump to the wrong conclusions or simply attack one another.
Neil Bell's staging seats the audience along one of the longest walls and places different scenes in different parts of the remainder of the room. The first few rows are on the flat, and so visibility is poor for most of the audience most of the time; the rear rows are on a staging block that is accessed via a single step of about three feet in height, which many members of the audience were struggling to climb, especially when carrying glasses of drinks. The direction is a little leaden at times, with lots of pauses inserted that only serve to hold up the pace.
James Foster is very good as Otis, who gets many of the best comic lines, with great support from playwright Cathy Crabb as Paula. A lot of the time, their dialogue is written and delivered very naturally and with lots of life and pace in it. 24:7 director David Slack is good as the tolerant Ronnie, with Francine Rees a little hesitant at times with her delivery as the fiery, often-obnoxious Bridgette.
There is a lot of swearing in the script, and while there is nothing wrong with this if it fits, it often seems out of place, which may explain why some of the actors are a bit hesitant in saying some of these words.
This play has some intriguing plot elements and some great comedy, but it does appear to be a snappy little one-act comedy stretched out into a drama of two hours plus. There are flaws with the plot structure, elements that hold promise are left unexplored and many scenes need some serious editing, but there is still plenty to laugh at in this interesting little comedy.
Reviewer: David Chadderton