My Beautiful Laundrette
Hanif Kureishi, adapted by Roger Parsley and Andy Graham
Above the Stag Theatre
(2011)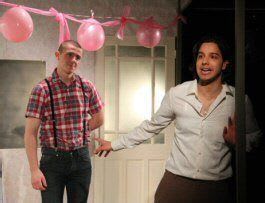 It is almost unbelievably a quarter of a century since Stephen Frears directed Hanif Kureishi's screenplay with its then trailblazing tale of gay romance between an Asian and a former BNP thug set in Thatcherite Britain who set up a boutique laundrette with an entrepreneurial skill that would have won the Iron Lady's admiration. Its themes of racism and homophobia are sadly still just as relevant.
In the stage version of My Beautiful Laundrette we lose the film's broader picture of street violence and seedy nightclubs that help to place the narrative in its social context but the essence of the original lay in the personal and domestic, and that is what this adaptation hones in on. It trims the action and telescopes some incidents: so that, instead of seeing the laundrette attacked by the BNP, ex-racist Johnny protecting his boyfriend Omar's criminal business associate Salim and getting beaten up himself, it is Salim who inflicts his wounds. It makes Johnny slightly less heroic but adds an extra edge to the involvement of Salim and to some extent Omar and their boss, Uncle Nasser, in criminal activity, which the film provides in other scenes.
If you know the playing space at Above the Stag you may wonder how they could get a launderette on stage, let alone it and several other locations. Designer Fiona Russell has cleverly found a way that allows things to move swiftly between locations with new ones being revealed, avoiding awkward and time consuming furniture removals. It may not look as elegant as some shows at this address but it does its job and is mercifully free of the little black boxes that have threatened to become ubiquitous on the Fringe.
It is a tight script that doesn't allow much exploration of the characters. Any subtleties are up to the actors. As Omar's father, a leading journalist before he came to Britain and now a disillusioned vodka-fuelled incontinent recluse, Tim Hilborne still manages to suggest what he once was and why his son is still devoted to him. Indranyl Singharay is beautifully cast as the unscrupulous Salim, hiding his corruption behind confident good looks. Royce Ullah as Uncle Nasser gives us a man with many facets, an opportunist money maker with a sentimental streak, vulnerable at the same time as he can be uncaring. It would be so easy to overplay his mistress Rachel but, while Samantha Ritchie exploits the comedy inherent in her earlier scenes, she never over pitches it; there is no conflict with the poignancy of her situation later. Omar's rebellious cousin Tania, in a lively performance by Nalân Burgess, is the only representation of the situation for the women in his extended family.
The heart of My Beautiful Laundrette lies with the two young men. Yannick Fernandes gives Omar a naivety that softens the ruthlessness of which he also seems capable as though he just hasn't realised the implication of his actions and their effect on others. Tender with his father, tough in some ways, as go-getting as his uncle, one feels he might be lost without the steadying influence of James Wallwork's Johnny, who, having escaped the influence of his skin-head peers, shows a developing awareness and loyalty in his affection for Omar.
Tim McArthur's production eschews the raunchiness of some of the movie's scenes; the sex (surprisingly perhaps for this venue) is much less in-your-face and its ending leaves the future of Omar and Johnny's relationship much more questionable
Run ends 10th April 2011
Reviewer: Howard Loxton