Beauty and the Beast: The Rock 'n' Roll Panto
Peter Rowe
Leeds Heritage Theatres
City Varieties Music Hall, Leeds
–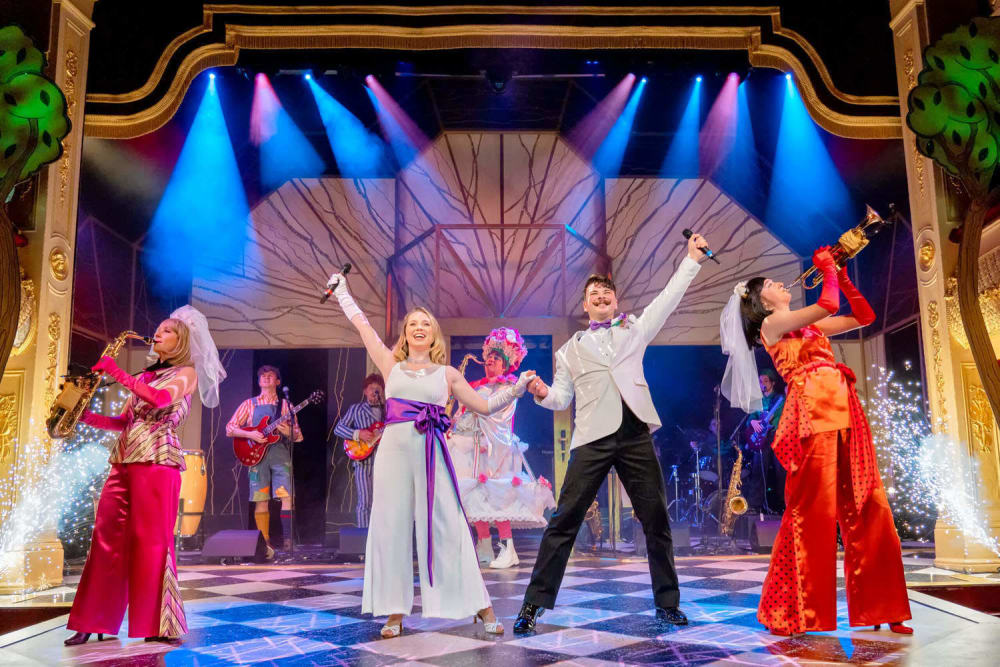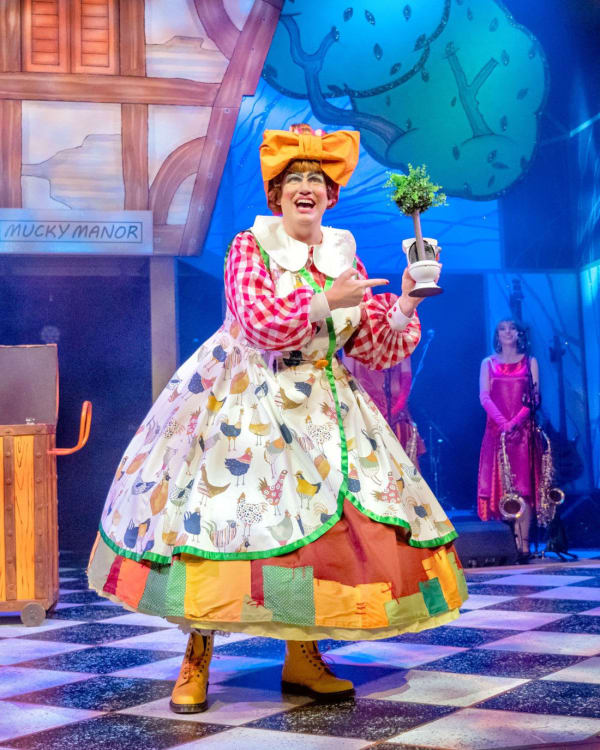 After last year's hiatus (boo and hiss to COVID!), it was a joy to be back at City Varieties Music Hall—surely one of the UK's most exquisite theatres—for the annual rock 'n' roll pantomime.
Since 2011, Leeds' oldest theatre has offered audiences a delicious twist on the panto formula: when the actors aren't playing their parts downstage, they're playing a variety of instruments in the house band upstage. This emphasis on live music means that the show caters for adults more specifically than many other festive shows. That being said, there's still plenty of silliness to entertain the children.
Rather than relying on Disney's Beauty and the Beast, writer Peter Rowe has gone back to the original fairy tale—with some notable adjustments, of course. When Sir Peacock Beauregard (Kenny Davies) stumbles into an enchanted castle one stormy night, he encounters a terrifying Beast (Connor Mellor).
The Beast allows Sir Peacock to leave the castle on the condition that either he or his youngest daughter, Beauty (Grace Lancaster), returns to live with him. Beauty heroically steps in to protect her father and whilst living with the Beast she grows to love the man beneath the fur.
I thoroughly enjoyed City Varieties' staging of Cinderella back in 2018 and Beauty and the Beast is every bit as good, bringing together a witty script, stellar performances and a deliriously eclectic mixture of songs. I can honestly say I never expected to see a panto where the Beast serenades Beauty with Marvin Gaye's "I Want You". I'm sure many of the children in the audience were slightly baffled by this musical choice, but I was thrilled.
This year sees the return of seasoned panto performer Simon Nock, who is utterly terrific as Dame Bessie Bigbreaths. He immediately strikes up a warm rapport with the audience and his delivery of Peter Rowe's one-liners is second to none.
Nock forms a strong double-act with Kenny Davies as Sir Peacock, the (initially) unwilling object of Dame Bessie's affections, who is delightfully pompous and silly. Equally splendid are Hannah Baker and Hannah Price, who sparkle brightly as Beauty's vapid older sisters, Luxury and Vanity.
As the Beast's servants, Primp and Preen, Alice Gruden and Tim Roberts make a suitably dim-witted duo, and their rendition of "(You've Gotta) Fight for Your Right (to Party)" results in one of the evening's most memorable moments. Not to be outdone in terms of sheer stupidity is James William-Pattison's Desperate Dan, who sings and dances with aplomb.
In many pantomimes, the heroine is the blandest character. However, this is resolutely not the case with Grace Lancaster, whose charisma and singing talent ensures that Beauty is never a bore. I was also impressed by Connor Mellor's vocal prowess as the Beast and his comedic chops at the beginning and end of the show.
City Varieties Music Hall faces stiff competition from all the theatres hoping to make up for last year's closure. Despite the crowded field, I would heartily recommend you check out Beauty and the Beast if you're looking for a bit of Yuletide cheer.
Reviewer: James Ballands