Beauty and the Beast
Phil Willmott
The Corn Exchange
The Corn Exchange, Newbury
–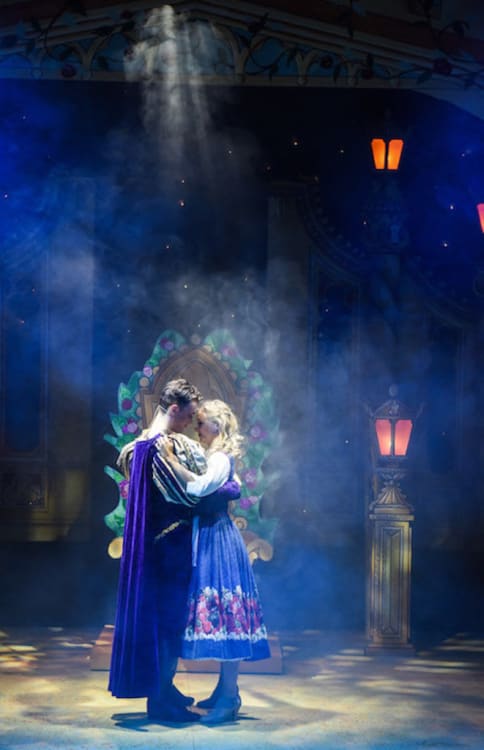 The Corn Exchange has a huge festive hit with this year's lavish pantomime Beauty and the Beast.
As the excited youngsters and their mums and dads entered the foyer, they were greeted by a beautifully decorated Christmas tree and colourful murals made by local schoolchildren that created a truly seasonal atmosphere.
Celebrating his tenth panto for the Corn Exchange, Phil Willmott has written a witty script and inventively directs this sparkling family show with style.
All the festive ingredients that make pantos so special are here in abundance from the colourful set, sumptuous glittering costumes, dramatic lighting and spectacular pyrotechnics designed by Guy Dickens and an energetic and highly talented cast who were determined that we should all have a great time.
The story is well known. Prince Rupert, the impressive Blair Gibson who also makes a powerful Beast, is holding a birthday party when an old woman seeks shelter for the night.
She offers a rose in payment but the Prince sends her away and so she casts a curse on him. P K Taylor is superbly evil as this Enchantress and was deservedly booed by the audience.
Returning for their third Newbury panto are the splendid Joshua Coley as the Brummie Pickle and Amy Christina Murray as Lilly who quickly establish a warm rapport with the audience who are all keen to join in and be part of the gang.
In Newbury, Bottom—the rather posh Cuthbert (Danny Stokes) with his catchphrase, "OK cool, no worries"—is waiting on the arrival of his cousin the sweet Belle, charmingly played by Phoebe Lewis. We also meet the sensible Posy, the Postie: Emma Fraser, who is making her Corn Exchange debut.
Meanwhile at the castle, Rupert has been transformed into the Beast and Lilly and Pickle are decidedly unhappy about their new wolf-like forms.
They have much fun in their slapstick scene with plenty of slosh and hilariously get trapped making their wallpaper-pasting table.
When Belle is imprisoned in the castle, she slowly falls in love with the Beast who treats her royally and of course there is a happy and emotional ending.
There are the traditional ghost scene, awful funny puns, jokes about Donald Trump and dating apps for witches and oodles of audience participation including the songsheet competition as we all joined in "Let's Do the Time Warp Again."
There is excellent support from the versatile ensemble (Joey Warne, Victoria-Louise Currie, Oli Dickson and Katie Lee.
Look out for the dragon and the two wolf narrators—to say more would spoil the surprise.
With slick dazzling choreography by Holly Hughes, scintillating songs and a spirited musical score from Richard Baker and performed in the capable hands of Tom Neill assisted by Harry Brokensha, this panto is a sheer joy and great family entertainment.
Beauty and the Beast should definitely be on your Christmas wish list and is not to be missed.
Reviewer: Robin Strapp