Beauty and The Beast
Eddie Robson
The Dukes Theatre
The Dukes Theatre, Lancaster
–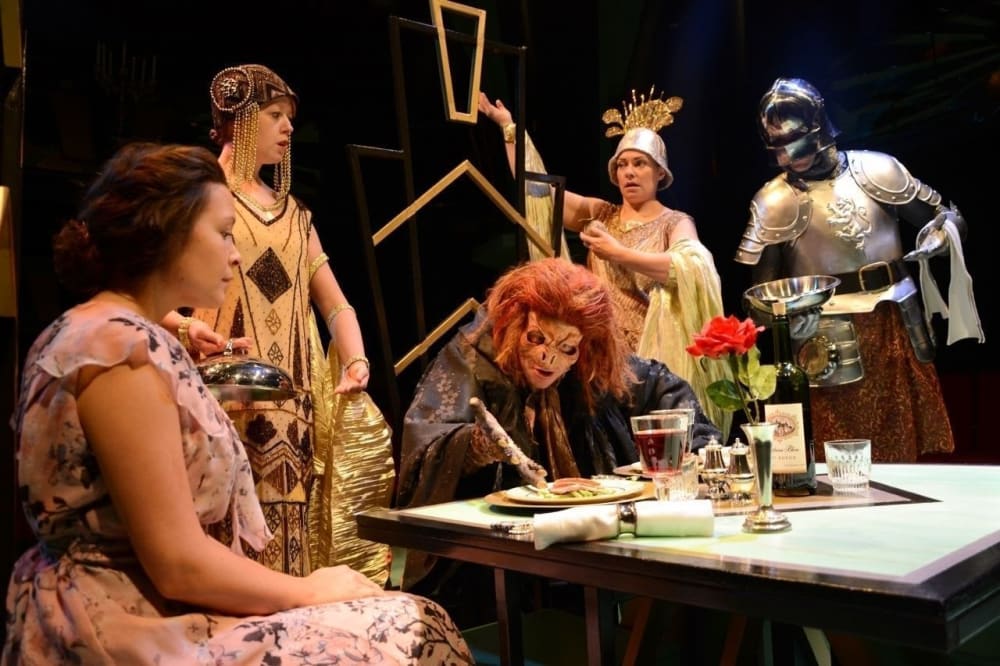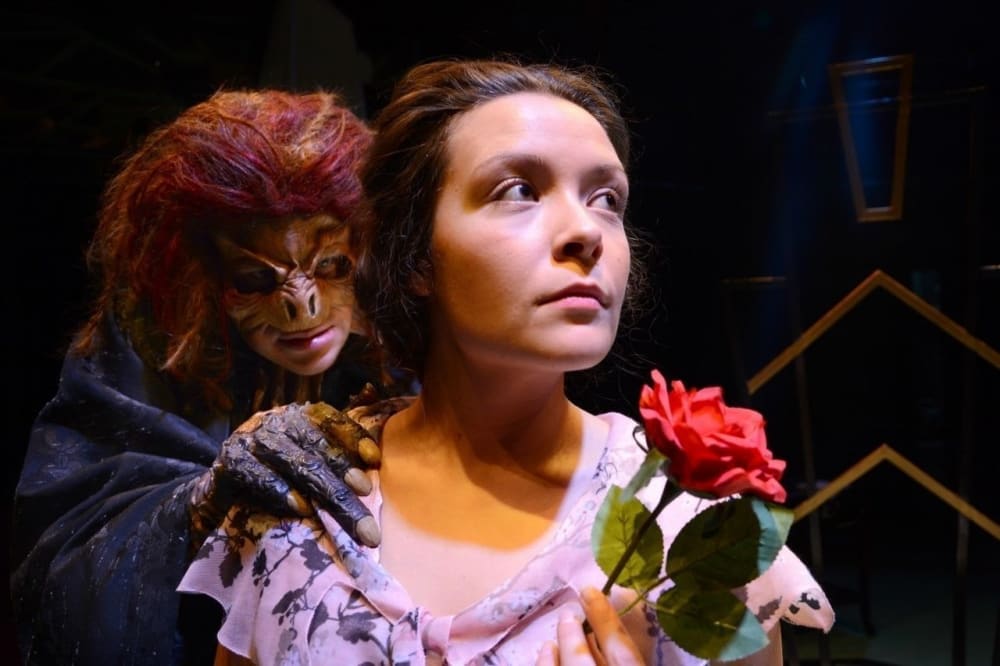 The Dukes has a winner of a show for Christmas and New Year: the classic Beauty and the Beast adapted by Eddie Robson and directed with great finesse by Joe Sumsion, set in the intimate Round and themed in a 1930s Gaumont setting, the relevance of which becomes clear in the second half, with a fun design by Alison Heffernan.
The play opens with the hard-working Beaumont family in a biscuit factory, now poor, but they had been wealthy until the father had been duped into parting with his fortune by the fraudster Mayhew. When Mayhew is eventually caught and put on trial, Beaumont heads down to London to seek the return of his money, leaving his three daughters and son at home.
After a long trial, Mayhew is found guilty but the legal costs are so high that Beaumont receives only pennies in recompense.
Travelling back north by bike and on foot, the dispirited Beaumont takes a short cut and gets terribly lost in a deep and unfriendly forest. When he arrives at a mysterious and dilapidated mansion, he finds that the gate opens and he meets the strange inhabitants, a statue, hat stand, suit of armour and clock all with the power of speech and movement.
Beaumont is fed and after a good night's sleep he finds that it was not a dream. Frightened, he tries to leave but is reassured by his strange new friends. They refer to 'The Master' which worries Beaumont so he decides to leave. On his way out, he takes a rose for his daughter Belle. The Master, a frightening, twisted and cloaked presence appears in a fury and threatens to kill Beaumont for stealing the rose unless he brings Belle back as the Beast's companion.
Finally home, penniless and frightened, the story is pulled out of Beaumont by his family and strong-minded Belle decides to go to the mysterious mansion to comply with the deal. The Beast is clumsily and frighteningly hospitable and slowly an edgy and cautious relationship develops between Belle and the Beast. After a private film show in the house, a dark story of enchantment and curses is hinted at. Belle is allowed to go home for Christmas but she is drawn to return to the mansion where she finds the Beast seriously and mysteriously ill.
The story does have a happy ending. Love conquers the curse on the people of the mansion. The Beast recovers reverts back to being the handsome matinée flm idol and the strange inhabitants turn back to being the handsome actor's staff.
Plenty of knock-about fun and tongue-in-cheek and camp humour in this excellent Christmas production with a strong cast. Suitable for all ages.
Reviewer: Denis W McGeary