Beauty and the Beast
David Bintley
Birmingham Royal Ballet
The Lowry
–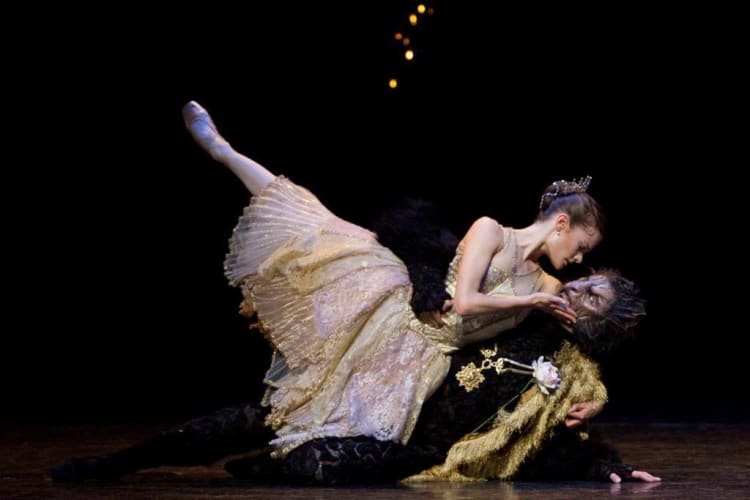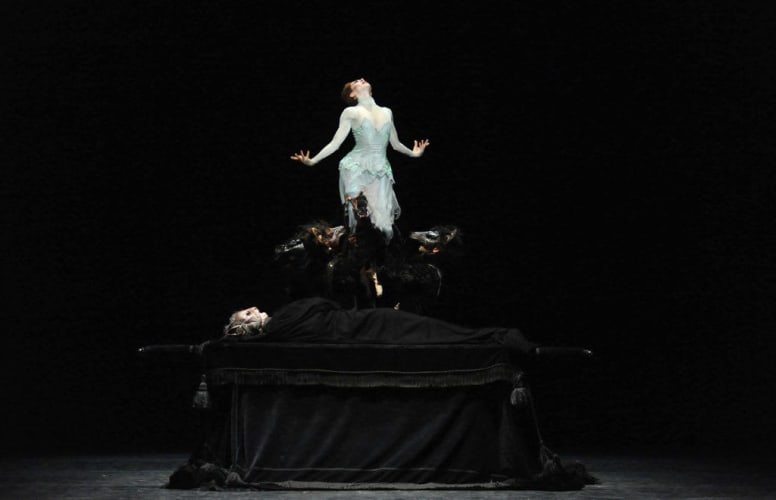 As David Bintley prepares to step down from the role of Artistic Director at Birmingham Royal Ballet—one he's occupied for 24 years—the company continues its UK tour of his 2003 fairytale work, Beauty and the Beast.
From the moment that the twinkling opening notes of Glenn Buhr's score beckon you over the threshold, this ballet draws its audience into a dark and magical world entirely different from the familiar 1991 Disney film. The central plot is the same: Belle, a beautiful young girl, is held captive in an enchanted castle by a prince who has been cursed into beast form as punishment for his wicked ways.
In Bintley's version, Beast is caught fox hunting by the Woodsman—a sort of forest god with a sweeping green cloak—and as punishment for persecuting the natural world, he and his royal household are changed into animals (rather than objects). The Beast is a feline creature, licking Belle's hand when they first meet and curling up at her feet; his courtiers and servants become birds; mirroring his transformation, the fox being pursued takes human form as the Wild Girl. Even Belle's father does harm to nature, earning the Beast's wrath by cutting a rose for his daughter.
Philip Prowse's designs add to the sinister feel of this production. The opulent castle set slowly unfolds like the pages of one of Belle's books, while in the Merchant's house, a row of taxidermied birds of prey perch ominously overhead. The Merchant's arrival at Beast's castle is genuinely creepy, with flickering candlelight, shadowy corners and some quite ingenious effects to create independently moving objects.
The ball scene that opens the second half is a sumptuous display of gilt and clouds of tulle skirts, but even this glittering celebration foreshadows Belle's refusal of the Beast and flight from the castle.
Yvette Knight is a serene, graceful Belle, while Brandon Lawrence's dual performance as the powerful, animalistic Beast and elegant Prince proves why he was nominated at the most recent National Dance Awards. Interestingly for audiences at The Lowry, both dancers are relatively local by birth—from Lancashire and Bradford respectively.
Belle and the Beast's first duet—the climax to act I—adds to the long tradition in ballet of pas de deux inspired by conflict, with Bintley's choreography making effective use of lifts and assisted moves based on balance and resistance. Their final duet, in contrast, is a flowing, exuberant portrayal of romance.
Amongst the love and enchantment, there is also comedy, in the form of Belle's two sisters (brilliantly performed by Samara Downs and Laura Purkiss). Their vanity and bickering culminates in a hilarious wedding scene, which sees them fight over the same bouquet—and husband—against a backdrop of overblown comical caricatures.
Beauty and the Beast is in many ways the ideal narrative ballet—each step contributes to the story, and the design and music conjure up a completely magical world. It fully deserves to be recognised as a modern classic and should be in the repertoire for many more years to come.
Reviewer: Georgina Wells