Beauty and The Beast
Choreography: David Bintley; composer: Glenn Buhr
Birmingham Royal Ballet
The Lyric, Theatre Royal Plymouth
–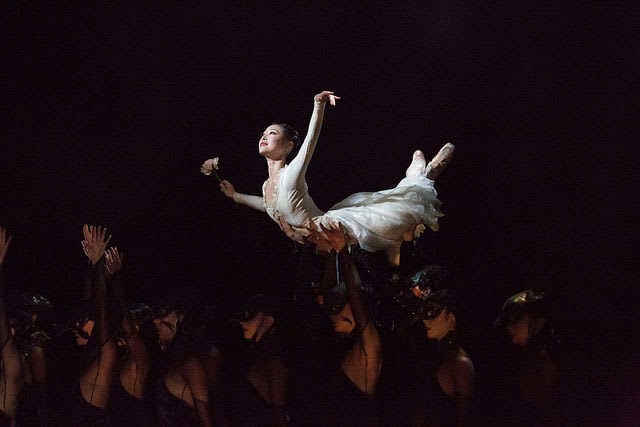 David Bintley CBE's Beauty and the Beast is a triumph of collaboration.
Having long been fascinated by the myth, which is common to many cultures across the world (not just Disney), Bintley worked closely with Canadian composer of mostly orchestral, choral and chamber music Glenn Buhr and designer Philip Prowse to create his vision contrasting the beauty of the natural world and the beastliness of mankind.
His first fairytale ballet is gothic, dark and majestic with towering blood red and black towers, menacing forests and candlelit opulence. Mark Jonathan's lighting is brooding or bright as the emotions sway between gloom and frivolity while Prowse's animated crockery, embracing chair and wing-flapping stuffed birds add a light touch.
Buhr's score is rather more a soundtrack to the action and set pieces than a standalone musical masterpiece but adequately accompanies wild waltzes, ensemble gallops, quiet solos and exquisite pas de deux.
Momoko Hirata is a delicate Belle, payment to the Beast for theft of a rose by her father (good to see senior ballet master Michael O'Hare on stage again) after a night of sanctuary. Symbolising redemption, her relationship with the lumpen, bewitched Beast (a heavily disguised Cesar Morales) is charted through acts of increasing humanity and played out in ever more simpatico duets.
Human manifestations of the animals the bloodthirsty bewitched prince and his posse once hunted stalk the halls in beastly goings-on with Miki Mizutani leading the talented ensemble pack as the all-forgiving flame-haired Wild Girl and Tzu-Chao Chou as Raven commanding the birds of the air.
Bring much needed light relief, Belle's ghastly grasping sisters (Laura Purkiss and Samara Downs) plot and quarrel particularly over snout-nosed Monsieur Cochon (James Barton) and the wedding feast is a delight with the Grand Dame of BRB Marion Tait CBE putting in a tremendous and hilarious cameo as Grandmere.
Not my cup of tea, but the youngsters in the audience seemed to love it—and at approximately 47 minutes each half, ideal for a family excursion.
Reviewer: Karen Bussell