Beauty and the Beast
Laurence Boswell
Theatre By The Lake, Keswick
–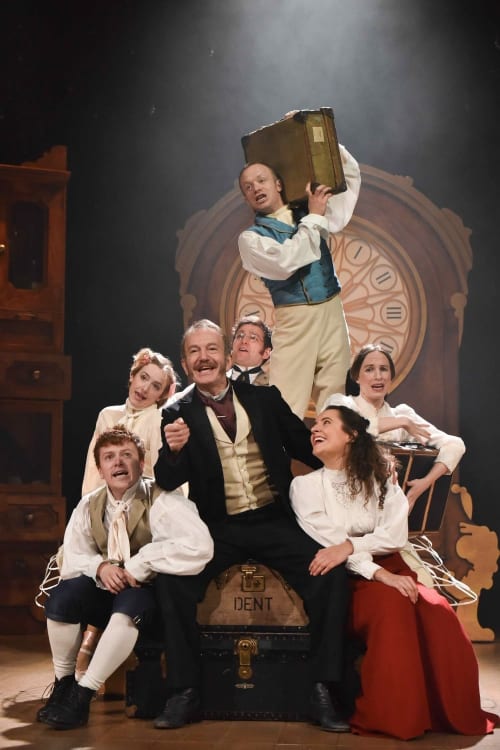 No ordinary Beauty and the Beast, and certainly nothing like any of the recent Disney tellings of the French fairy legend.
Laurence Boswell's adaptation returned the tale to its roots in his 1996 reworking of the story for London's Young Vic. The Royal Shakespeare Company then staged it, to further acclaim, and it has been rewritten again especially for this Lakeland outing. So there's an indelible stamp of quality about the production, instantly reflected in Abby Clarke and Patrick Conellan's stage design framing a set of antique furniture and a huge wooden clock centre-stage.
This Beauty (Eleanor Sutton) and her family have hit hard times and she's further hindered by two scheming sisters (Sarah Moss and Charlie Cameron) and a less-than-useful father (Max Gold). So far... so Cinderella? He's enchanted by the apparent riches on offer at the Beast's castle and unwittingly plucks a rose which proves to be the 'price' of bringing the two title characters together. So perhaps a slight reversal of Sleeping Beauty?
At least it all stays well clear of the original story's intention—apparently to prepare 18th century damsels for arranged marriage...
Not that there has to be a hard and fast template to these tales, but Boswell's very literary adaptation does make other demands on its target audience, with the arrival of the Beast's robotic servants, and some prolonged activity to do with sampling three smoking jars apparently full of food. It might have been the cue for more physical fun, but instead it all seemed to whistle over the heads of the largely primary school audience at this day's matinée.
As a piece of illustrated storytelling, director Chris Honer keeps it all brisk enough and it would appear to hold young imaginations rapt for two hours, especially with just enough stage trickery—and a Beast whose overly-evident backbone proves properly spine-tingling!
Reviewer: David Upton