Beauty and the Beast
Julie Atlas Muz and Mat Fraser
ONEOFUS
Young Vic
–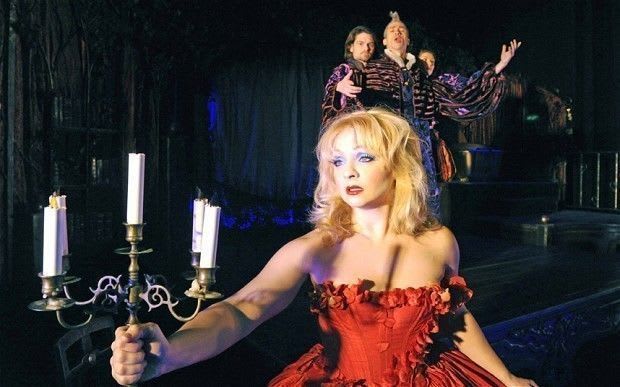 In a bold, taboo-breaking show, Beauty and the Beast is the first official theatre production by ONEOFUS, a new arts company created by married pair Julie Atlas Muz and Mat Fraser.
The evening begins with Fraser telling us about being born with phocomelia—a rare birth defect in which the upper portion of limbs do not develop—as a result of his mother being assured there were no problems with the drug Thalidomide.
Muz and Fraser offer an intensely personal insight into their relationship, paralleling their lives against the well-known fairytale Beauty and the Beast (Muz as Beauty, Fraser the Beast).
Director Phelim McDermott challenges our perception of disability and asks us to expect the unexpected. There are moments that are truly surreal, particularly when the audience descends into barking like dogs—very strange, in a good way of course.
Furthermore, for the last twenty minutes, both Muz and Fraser are completely naked and there's a hilarious erotic fruit segment—this is definitely not a show for children. It is remarkably effective though, for after the initial surprise the nudity becomes an irrelevance, a non-issue, just like Fraser's disability.
Muz works the audience wonderfully, resembling a combination of Bonnie Tyler and Dita Von Teese, with a helping of Kate Bush chucked into the mix. Fraser is a seasoned, consummate performer and their relationship is genuinely touching. There is also no more suitable a venue for the show, as Maz informs us, "He proposed to me in a disabled parking space, just opposite the Young Vic".
With the help of two fine puppeteers (Jonny Dixon and Jess Jones) who also get their kit off, Philip Eddols's complex set is imaginatively brought to life—including a very impressive opening projection sequence. Highlights include providing Fraser's floating arms and two promiscuous tissue paper rabbits—who go at it like, well, rabbits.
With a great soundtrack accompanying the action (including Stevie Nicks's "Beauty and the Beast" and Elvis's "Home is Where the Heart Is"), Beauty and the Beast is an absolute treat, rich with humour and heart. One not to be missed.
Reviewer: Sean Brooks