Beauty on the Piste
Jon Bradfield and Martin Hooper
Above the Stag Theatre
–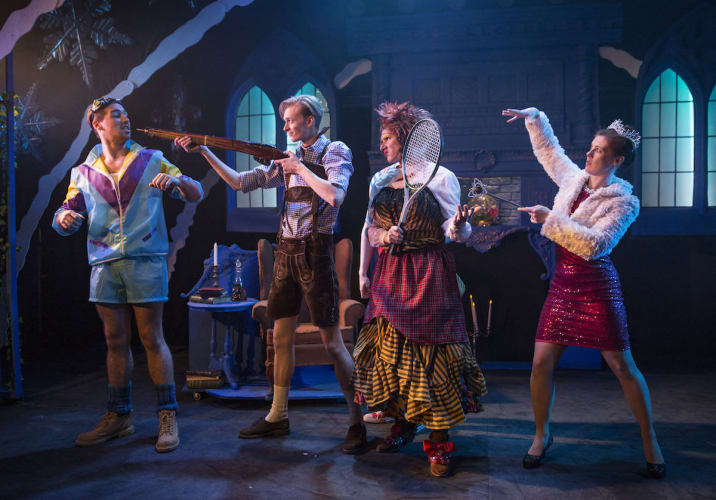 I've sometimes cringed at the comic crudity of the scripts that Bradfield and Hooper, regular panto writers at the ATS, have produced previously but their reworking of this fairy tale has a lighter touch, though it is still very definitely "adult" in its appeal to its target gay audience.
The story is now set in Les de Nice, a Swiss ski centre where Beauty becomes Beau and the Beast is a lord in his castle who has been turned into a shaggy-shanked yeti topped by a Swan Lake-like tiara. He can only be restored to his human form by true love and being topped in another sense. To help him there's a horticultural aid on his mantelpiece, a Penis-Flytrap plant that reacts if the right guy is nearby.
The baddie is local ski resort owner Sebastian St Moritz who's used to getting what and whom he wants. He plans to take over the teashop run by expat Scot Morag and her son Mac and soon has his eyes on Beau, the son of a widower local goatherd. Of course there's a fairy (a real one with a with a wand) and though there's no demon king for her to fight with there's a song sheet and a chance for some traditional audience involvement.
Simon Burr is suitably smooth as Sebastian, a handsome if self-satisfied predatory developer, though that doesn't stop people booing him; Jamie Coles is not really nasty as the Beast, Ross Tucker presents a very innocent Mac and Joshua Oakes-Rogers a rather vain Beau; a self-styled techno-bunny, he is just a little bit fluttery.
Ellen Butler as Heidi, Sebastian's lesbian home help, is an ATS panto veteran as is Andrew Truluck as Beau's dad Gustav. She, like her boss, has been enchanted to keep changing shape into different domestic objects: sometimes a lavatory brush, a standard lamp or even a big red teapot, inspired it would seem more by Disney than by traditional versions.
Lonely Gustav has a longing for Morag and with David Moss as the Dame who can blame him. It's a delightful performance, very sprightly and very funny. This isn't one of your hair-chested female impersonators but a born clown with impressive timing: this Dame is a performer, not a succession of frocks.
There are songs by Jon Bradfield, not quite enough of them, bright costumes by Brigid Guy and David Shields does amazing miracles delivering opulent settings in this small space. From the start, with Briony Rawle establishing an intimacy with the audience as her Fairy Mabel begins telling the story, Andrew Beckett's direction creates just the right atmosphere with an ensemble of actors who make this a show that sends everyone out smiling.
If in-yer-face gay humour and comradely feeling are your thing grab a ticket—though I fear you may be too late already!
Reviewer: Howard Loxton