Disney's Beauty and the Beast
Music by Alan Menken, lyrics by Howard Ashman and Tim Rice, book by Linda Woolverton
Theatre Royal, Newcastle, and touring
(2007)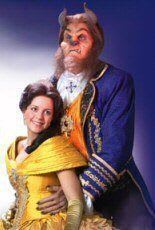 Take a classic tale, the perfect mix of comedy and romance, clever lyrics by Tim Rice and Howard Ashman, sprinkle on a little Disney fairy dust and what you have is a little beauty.
Disney's lavish family-friendly musical is a big, brash, colourful spectacle painted with large, sweeping brushstrokes, with all the feel of a pantomime.
As the promotional literature puts it, it tells a tale as old as time. The classic love story tells the tale of Belle, a beautiful, bookish misunderstood young woman and the Beast, a handsome prince turned into an animal full of rage.
To break the spell, the Beast must learn to love and be loved and so we follow the pair on their musical journey of enlightenment.
And it's a feelgood production that translates well to the stage. Nominated for nine Tony awards, it's the West End show essentially played out on a stage half the size at Newcastle's Theatre Royal.
It's showy, with an easy-to-follow storyline, all wrapped up in some spectacular costumes and is popular with families.
Yet there's enough to entertain the adults with witty, rather racy lines woven throughout the story and a burlesque feel in parts.
Ashley Oliver as Belle is utterly enchanting - a fragile beauty, graceful and yet strong, with a knockout voice. Matthew Cammelle as the Beast wins us over with his transformation into Prince Charming.
The enchanted objects are huge fun - the candle Lumiere, played by Ben Stock, has some of the best lines in the show, and he and Cogsworth the clock, played by Stephen McGlynn, make for a very entertaining double-act.
Cardboard cut-out he-man Gaston, played by Ben Harlow, steals the show in his scenes.
There are fireworks, a dramatic transformation scene at the end, and a happy ending. A show with the wow factor!
Reviewer: Katharine Capocci