Disney's Beauty and the Beast
Music by Alan Menken; lyrics by Howard Ashman and Tim Rice; book by Linda Woolverton
Lyceum Theatre, Sheffield, and touring
(2009)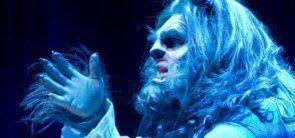 One or two of you may be familiar with this story of a young man who offends a witch and turns into a foul beast until redeemed by the love of a good woman. Was it written by Disney and later became a stage production?
It is all there on the Lyceum stage - explosions, fireworks, transformation scenes, some excellent dancing, individually and in major configurations, acrobatics, clever mimings by pieces of furniture who had gained a new shape from their original human form in association with the transmutation of the beast.
Belle is a good girl (Ashley Oliver) who likes nothing better than to read a good book, and is quite happy to do this, with an occasional burst of song in a warm pleasant voice, but sometimes insufficient to cope with the strength of the musical accompaniment which often proves victorious. Her father, Maurice (Richard Colson) a rather bumbling old man who does not appear to understand when he is running into trouble, wanders off to the beast and is only rescued by Belle at the cost of her own liberty.
Luckily, she knows how to treat an uppity beast, even though she had difficulty with a more down-to-earth Gaston (Ben Harlow) who had decided to marry her, come what may. He fights with the beast (Shaun Dalton) who had already had dinner with Belle, setting the scene for his transfiguration into a handsome proud aristo.
This old, old story is well told, and interspersed with excellent gymnastic dance episodes, bright music and dramatic lighting sequences as battle is engaged with whoever happens to be displaying the upper hand at the time.
This production has been reviewed over the years by Peter Lathan, David Chadderton and Katharine Capocci.
Reviewer: Philip Seager