Beauty and the Beast
Christmas pantomime based on the fairy tale by Mme Marie Leprince de Beaumont
Theatre Royal, Windsor
(2005)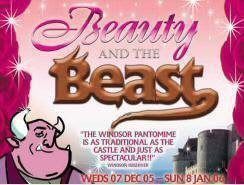 Madame de Beaumont's fairy tale of the handsome Prince turned Beast by a malevolent witch, and the beautiful girl who saves him with her love, was among the first to be transformed into a Victorian Christmas pantomime, combining burlesque with the romantic story.
What bliss then to discover that her plot, still largely intact in its original 1757 form, provides the narrative backbone to this season's Windsor pantomime. The only nod to Disney is a romantic waltz sequence, bringing love and music to the Beast's castle. Which said, the burlesque element inevitably prevails as part of the Yuletide celebrations.
Newcomers Andrew Alexander as the Prince cum Beast, and Scottish actress Claire Falconer as his fair young Beauty, play the romantic leads alongside Sammy Fonfé as the Good Fairy, who casts fresh spells to overcome malevolence.
Meanwhile a limber chorus of dancer singers, led by Guildford graduate Alan Bradshaw, add spirited, youthful charm to the story. But two mature stars bring delight to Windsor audiences with their rich talents.
Diminutive dancer and entertainer assoluta, Wayne Sleep first joined the Royal Ballet four decades ago, and became a Covent Garden principal with roles specially created for him by Ashton, MacMillan and de Valois. Since then he has carved out a niche with his own dance company, also in the West End as the Emcee in Cabaret, and a seasonal shining light in pantomime.
In his second panto for Windsor he plays Jumping Jack, kicking as high as a teenage dancer, but most at home when cosying up to the audience, and leading the Old MacDonald singalong with the help of four kids from the audience. A real trouper.
I was knocked out by the glamorous Sue Holderness, apparently making her first foray into pantomime as the wicked witch Malevolene. As a screen star she created the rôle of Marlene, wife to her real-life husband John Challis, who played Boycie in the television series Only Fools and Horses.
Here she is a figure of extraordinary power, enjoying a second major career with her total domination of the stage, stunning figure, dazzling good looks and outstanding vocal delivery.
Added to all that, few could hope to match Mr Sleep's dancing footwork. But he and she do a magnificent Fred 'n' Ginger routine that suggests she may also have a third career as a tap-dancer of style and elegance.
I am also happy to report that director Mark Piper continues to respect the Windsor family pantomime principle with no trace of 'adult' gags delivered over the heads of children in the audience.
He has also stayed true to the Windsor tradition of finding pantomime roles for Christopher Beeny and Michael Sharvell-Martin, here playing Beauty's 'ugly sisters' in deftly staged versions of the 'bedroom ghost' sketch and the 'broken mirror' mime sequence.
Ed 'Crackerjack' Stewart also returns in fine voice as Beauty's Dad. But all the on-stage comic effects are finally sidelined by a glorious series of 'magic mirror' video sequences in which Eric Sykes shows that subtle wit wins every time over big live comedy.
His clever series of spectral presences, including a cod classic piano sketch, played in combination with the live keyboard skills of Stuart Barr as musical director, create a rare moment of blissful comedy.
This helps make a trip to the white and gilt Windsor Theatre Royal a highlight of your Christmas entertainment, plus easy (if expensive) parking, close to Brown's welcoming riverside restaurant which I can warmly recommend for pre-show nosh.
Reviewer: John Thaxter