The Beaver Coat
Gerhart Hauptmann, adapted by Christopher Rolls
Finborough Theatre
(2006)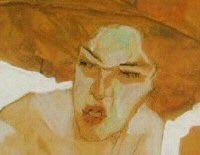 Part of the Finborough's Rediscoveries Season, Gerhart Hauptmann's 1893 farce The Beaver Coat has not been performed in London since its premiere over 35 years ago. Even with the help of Christopher Rolls' pacy, pared down version for the Finborough, it is easy to see why. Hauptmann's slapstick as played out by his stock character list (cunning matriarch, bumbling clerk, outsider with a murky past) has little of relevance to say today; what little it does say is conveyed in such a laboured, way that it seems barely worth the effort.
Despite the play's shortcomings, the acting is strong and the production values high. Joanna Bacon plays Frau Wolff with a commanding twinkle; Charlie Buckland has a strong, almost Heathcliffian presence as her husband (although the age difference between them is striking and presumably not intentional). Suzanne Heathcote puts in two very impressive contrasting performances as the Wolff's eldest daughter Leontine and the prim but sly Frau Motes. She is clearly a talent to watch.
The show is stolen, though, by the hilarious flirtation between Stephanie Thomas as Adelheid, Frau Wolff's youngest child, and Jot Davies as the hapless Glasenapp as they execute seamless, wordless scene changes to Mercedes Maresca's brilliantly selected German music hall sound track. The choreography of these moments is inspired; it is only then that Rolls' production achieves the heights of slapstick necessary to pull off Hauptmann's improbable plot and plodding charaterisation with sufficient panache to please a modern audience.
If the entire production was as good as its scene changes, it would be worth the trip to Earl's Court. As it is, this is a strong if slightly ploddingly predictable interpretation of a play which won't be missed if it isn't performed again for another 35 years.
Until 15 July 2006
Reviewer: Louise Hill