Becoming Hattie
Mhairi Grealis
Proteus Theatre
Leicester Square Theatre
–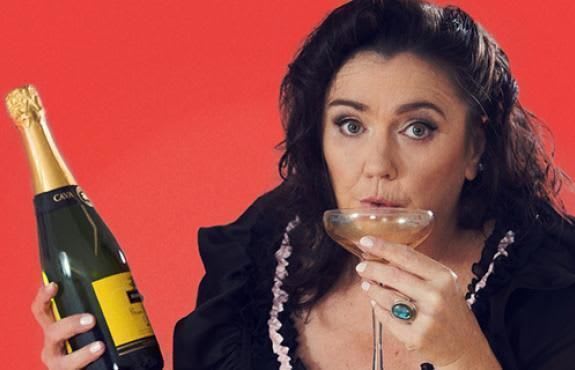 Solo shows are in vogue at the moment, touring up and down the country offering glimpses into the lives of greats such as Tommy Cooper and Oliver Reed.
At first glance, Becoming Hattie very much fits this mould with one woman telling the story of her heroine: Hattie Jacques. However, this play packs a harder punch than a simple walk down memory lane could, bringing the issues that Hattie faced during her career into sharp, modern day focus.
Ashley Christmas more than demonstrates her versatility, conjuring the essence of Hattie, creating the enthusiastic Jo and interacting with the audience who are affectionately included in parts of the action. The conceit of slipping from Jo to Hattie works well for the most part with comments from Desert Island Discs moving the plot forward through raising comedic and personal issues for both characters.
The pace is unfortunately uneven at times and elements of the second act feel disjointed and slightly rushed. With two stories fighting to be told, the switching begins to detract from both as their own personal dramas magnify. Whilst the weaving of past and present is the show's strength, it is also almost its weakness as it feels like there should be more information about Hattie and more stage time for eager Jo.
Putting Hattie's love life and career aside, the real purpose of the show, however, is to demonstrate the hypocrisy of show business with regards to stereotyping. The points made in this script are powerful and relevant—Hattie recalling her memories of a beach trip and Jo brandishing a piece of propaganda reveal a distinct lack of progression in attitudes towards larger women. The speeches are delivered with fervour and are quietly shocking.
These moments make the play, giving it a dramatic depth that most autobiographical shows lack. The final monologue however, although passionately performed, feels unnecessary as it reiterates points that have been eloquently made elsewhere in the production and changes the tone of the piece considerably.
Performed in a neatly designed 1970s sitting room, Becoming Hattie is a play that ironically doesn't quite fit within a specific genre. There are laughs and there are classic Hattie scenes but there is also poignancy and politics. It wasn't what the audience were expecting, but maybe that's the point?
Reviewer: Amy Yorston