Bedknobs and Broomsticks The Magical Musical
Book by Brian Hill based on the novel by Mary Norton and the Disney film; music and Lyrics by Richard M Sherman, Robert B Sherman and Neil Bartram
Michael Harrison presents
The Lyric, Theatre Royal Plymouth
–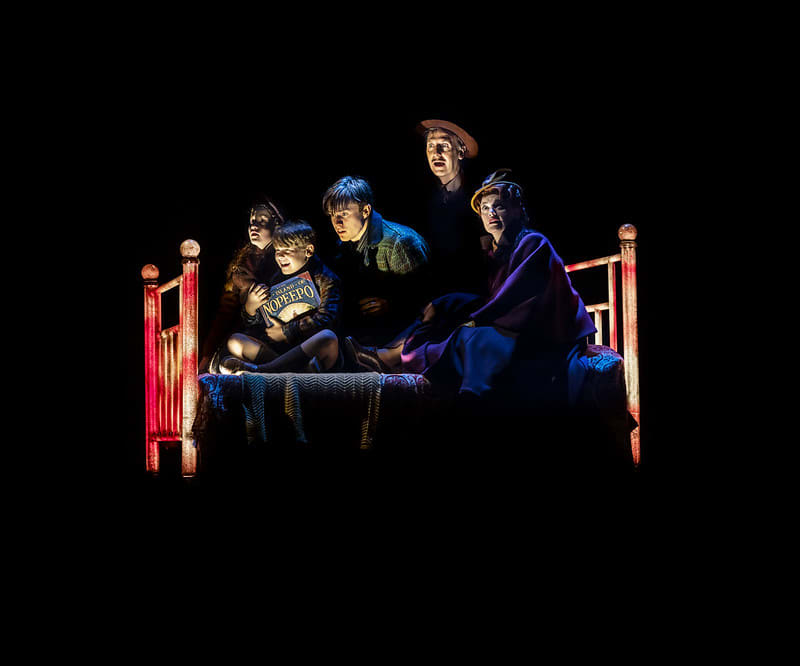 This really quite charming stage version of the Disney 1971 classic has an explosive start and a twist in the tale alongside plenty of magical moments.
Despite the fun and froth, this is a story of war and the quite harrowing WW2 London bombing that orphans the Rawlins children is not to be forgotten as the remnants of their blown-apart home is omnipresent.
To percussive and persistent drumming from Laura Bangay's orchestra in the pit and bombers silhouetted against a blood red moon, air raid wardens carry the Rawlins kids through smoke and debris to be evacuated to the rural Dorset backwater of Pepperinge Eye.
There are many continuing nods to the war, not least the unsavoury Mrs Mason boosting her workforce on the farm with children exchanging danger in the cities for a miserable life of hard graft.
Luckily for our trio, the eccentric, motorbike-riding Miss Eglantine Price (delightfully played and sung by West End stalwart Dianne Pilkington) reluctantly steps up to her civic duty—and the magic begins.
Newly qualified as apprentice witch from the Correspondence College of Witchcraft, Miss Price is on a mission to master substitutiary locomotion, the ultimate warfare deterrent… but first she must learn to grapple a broomstick and find commitment-phobe mountebank Professor Browne (A Call To Spy, Rocky Horror's Charles Brunton) to learn the spell.
And so the journey begins: from Dorset to London; to the deep ocean and Nopeepo—all by means of an amber-glowing, big, brass, flying bed.
Set designer and director Jamie Harrison (Olivier and Tony award-winning Harry Potter and the Cursed Child)'s effects are impressive—the bed hovers above the stage, flying through archways and windows; people are changed into rabbits and back again; shoes dance their way across, up and all around a dresser; swords, armour, bugles and more float about confusing and defeating invaders. All very impressive but none so much as the broom which defies explanation as it jinks and soars in a battle of wills as Miss Price learns to fly. Coupled with Chris Fisher's illusions, it is all quite breathtaking.
In stark comparison, directors Harrison and Candice Edmunds have opted for clunky scenery moving and homespun props: there is no mechanical scene changing here—the immensely versatile Company are continually pushing bits 'n' bobs about the cluttered stage, locking them into place and whisking props away or walking past with huge clouds on sticks or waving lights. Interesting but the contrast is a tad overdone as there are plenty of scene changes—from the bleak skeleton of bombed-out London to austere museum, the vibrant jostling of Portobello Road to the Beautiful Briny Ballroom under the Pearl Sea, Prof Browne's chaotic flat, Eglantine's house and the night-time quiet village streets.
Conor O'Hara makes a strong professional debut as the traumatised betwixt and between Charlie blackmailing for jam and sausages, imagining what could have been, practising negotiality and learning the stark fact that no amount of magic will bring back his parents. He of the lethal socks, Paul, and sister Carrie are played by several sets of child actors on tour. On press night here it was Jasper Hawes and Sapphire Hagon who impressed. Definitely ones to watch.
Kenneth MacLeod's puppets—manipulated, sung and spoken by the Company—are delightful: from luminous fish to cantankerous lion, fishing bear to subservient crane, all beautifully characterised and observed. Add the Sherman Brothers' perennial favourite ear-bugging songs—"Eglantine", Portobello Road", "The Beautiful Briny"—additional music and lyrics by Neil Bartram, choreography by Neil Bettles and that versatile Company, and there is something for young, old and everyone betwixt and between.
Spellbinding.
Reviewer: Karen Bussell