Bedroom Farce
Alan Ayckbourn
Church Theatre Bromley production
Yvonne Arnaud Theatre, Guildford, and touring
(2007)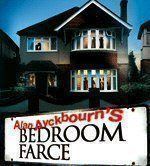 I have to admit that the title did not thrill me with delighted anticipation, but this is by Ayckbourn, that prolific writer and master of comedy, a man who takes ordinary domestic situations and gives them a little twist to see what might happen. It has to be worth viewing. The twist here is that the action takes place in three separate marital bedrooms on one chaotic evening and Michael Holt's design puts them all on stage at once, on two levels, all very carefully devised to reflect the characters of the inhabitants.
Colin Baker and Louise Jameson are Edward and Delia, an older couple, happily comfortable in tidy and tasteful domesticity, and chatting to each other without properly listening as they prepare to go out for their annual anniversary dinner. Delia, elegantly applying her make-up, is worried about their son Trevor and the state of his marriage, while lovely cuddly Edward is more concerned with the possible leak in the roof. Delia has good reason to be worried with their self-obsessed nonchalant son having no thought for the people he upsets along the way, and his wife Susannah is no better, given to chanting confidence building mantras and indulging in hysterics at the slightest provocation. It is a credit to the actors (Ben Porter and Beth Cordingly) that we can sympathise with them in spite of the trouble they cause.
Young married couple Malcolm and Kate (James Midgely and Natalie Cassidy) are preparing for a housewarming party, teasing and chasing each other like two frisky puppies amid the chaos of decorating and DIY, and the fourth couple are upwardly mobile Nick and Jan (Timothy Watson and Hannah Yelland) – not that Nick is very mobile right now, lying flat in bed with an injured back, while Jan goes to the party, meets old flame Trevor, and complications develop.
Ayckbourn is always well received at Guildford. No doubt many of the audience recognize themselves (or their friends) in the well drawn characters, always true to life or just a little larger
His latest play (I believe the 70th) is If I Were You, performed at Guildford early last year, soon after which he suffered a severe stroke and spent eight weeks in hospital. You can't keep a good theatrical man down for long and, although he will step down from his post of Artistic Director at Scarborough's Stephen Joseph Theatre next summer, after thirty seven years, he intends to continue directing revivals of his plays at the theatre and premiering any new work there as usual. Perhaps his next play could be based on his time in hospital – no experience wasted!
This is not 'rolling in the aisles' hilarious comedy, a little dated perhaps, but a gentle humour throughout and exceptionally well paced by director Robin Herford who also directed the hugely successful Woman in Black as well as the hilariously quirky Hound of the Baskervilles seen in Guildford earlier this year.
Each scene is spotlighted in turn to easily follow the action, and there are superlative performances all round from this well chosen talented cast.
Touring to Cambridge, London (Richmond), Brighton, Truro, Oxford, Cardiff and Glasgow.
Reviewer: Sheila Connor