Bedtime Solos
Jakob Holder
Across The Pond Theatre Company
The Old Red Lion Theatre
(2009)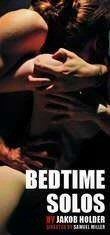 One person is never alone as they are always living with thoughts and feelings that they never express to the outside world. Therefore, two people can never truly connect as they cannot see inside each other. Bedtime Solos follows a man and a woman making love three times and explores the moments where they leave their own bodies to remember, fantasise and dream. They never touch and even in the brief instances where their dialogue links, each line holds a different significance.
Thoughts, memories and actual conversations overlap and the entire piece takes place in a dreamlike setting. Jakob Holder's writing hones in on the immediacy of the act of sex whilst also demonstrating how neither partner is ever fully in the moment even when they desperately want to please. The pervading theme of isolation is mirrored in the staging with each character standing to the side of their bed, near to each other and yet impossibly far apart. In this small venue with shadowy lighting there is a feeling of claustrophobia and the characters seem as much trapped in their own minds as their own bedroom.
In this two hander Scott Christie and Heather Wilds offer strong performances as the characters whose names we never know and whose eye colour we never find out. They relish the vivid language and their monologues and duologues are well paced as befitting an evening of passion. The stark set consisting of two white beds ties in well with their grey costumes ensuring that all attention is fixed on the verbal sparring of the couple and their conflicting viewpoints.
This is a production that requires concentration from its audience as the speeches are at times dense with description and Samuel Miller's comment in his director's note that his job was as much to translate as to interpret is easy to understand. Concentration in an audience, however, is not necessarily a bad thing and if you are willing to go on a journey with these nameless characters there are rewards in the thoughts expressed and the carefully articulated performances.
Runs until the 26th September
Reviewer: Amy Yorston