Being Shakespeare
Jonathan Bate
Trafalgar Studios
–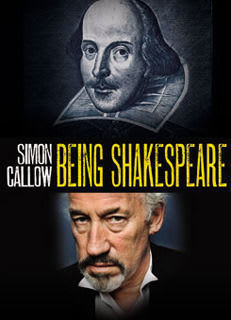 Being Shakespeare is a fantastic vehicle for Simon Callow to share his well documented love of the bard, inform audiences and offer flashes of some of drama's most famous characters and their speeches. In places a lecture, in others a showcase it becomes evident however, after his opening line that in this show Callow is tackling the subject of being Shakespeare but is not playing Shakespeare himself.
The conceit of using the seven ages of man to break up the narrative sections whilst perhaps obvious is entirely appropriate for this piece and provides a firm framework for the biography to develop in detail. The facts are fused well with the assumed and imagined but there is an air of reality to all of the assertions.
The observations about his probable family life and 'the lost years' are argued in a completely reasoned manner and once the grammar school system is completely explained it becomes far less surprising that this son of a glove maker could write so descriptively. The choice of play extracts illustrates the points beautifully and the full scope of his work is represented including the sonnets. Simply but effectively staged the lighting changes, inclusion of trees and surprise fire are sympathetic to the direction of Tom Cairns in creating moods but do not fight for attention or divert the focus from Callow.
The production is also a masterclass in the use of pitch and pace as the script moves from the idealism of young love, through to battles and power struggles and lastly to old age represented by a small extract of King Lear. Particularly entertaining is the small section featuring the mechanicals from A Midsummer Night's Dream in which Callow represents both Bottom and Peter Quince. Falstaff also makes a cameo appearance with the discussion of warfare and Miranda from The Tempest gasps at the possibilities of an indoor theatre. As you would expect from this powerful and seasoned performer, the characterisation and physicality of all of the characters, however brief the reference, is well thought out and performed with gusto.
This is an enthralling production and a showcase for Callow himself. It is not however, Shakespeare 'lite' and whilst you do not need to be an expert to follow the script a good working knowledge of the bard's work will stand you in good stead as Callow jumps from play to play at quite a pace.
If you are a fan of Stratford's most famous son though, there is much to learn about the man and much to re-discover about the characters. Callow clearly revels in the relative intimacy of the studio and the production is a rewarding experience for all.
Reviewer: Amy Yorston