Being Tommy Cooper
by Tom Green
Old Bomb Theatre
The Old Red Lion Theatre
–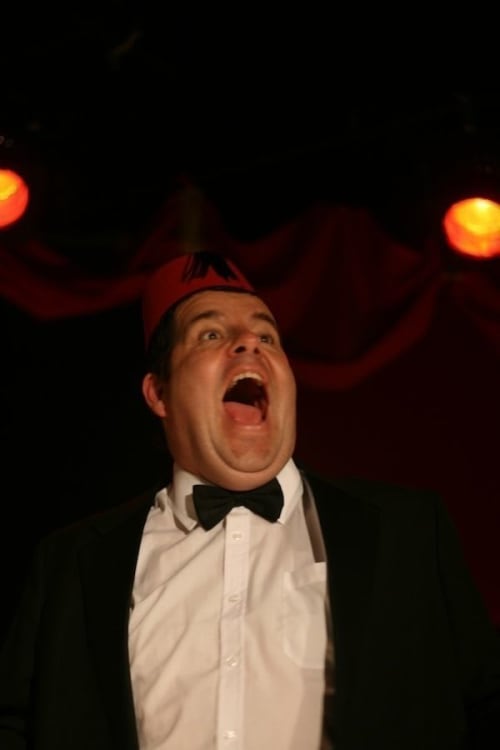 Lights up. An intimate space dressed in red, illuminated by the light of flickering candles. The audience, some seated at tables with deep red cloths, others atop red velvet cushions, wait with bated breath for their show to start.
It's Las Vegas, 1954. The Old Red Lion theatre has been transported back in time to witness the genius of a British comedy great. To steal a glimpse of his personal world. To sneak behind the scenes of a cynical industry. We're here to find out what it's like Being Tommy Cooper.
We meet a bedraggled salesman in a casino. He's 'lurking' near the slots, stage right, calculating the chances of a win. He reeks of desperation buried half-heartedly beneath his game face. It's clear he's been around these parts too long.
In a small office, stage left, sits an older man on the telephone. He is an artist's manager. From what we overhear, he seems to have his work cut out.
Centre stage, a man stumbles about his hotel room, glass in hand. His clothes crumpled and his bow tie undone. He is a comedian, who's facing the prospect of his first big failure. His name is Tommy Cooper.
From the moment the audience take their seats, they're at the heart of the comedian's enigmatic world. Whether it be as the few lowly musicians asked to stay behind to watch Cooper rehearse or members of the big Vegas audience tapped up for money for his next trick, part of the joy of director Cecily Boys's visualisation of Tom Green's bold new play is the feeling of actually watching a 'show'. Of experiencing first-hand the strangely alluring mix of magic and comedy. Of watching the late, great Tommy Cooper.
Of course, much of the play's success rides on the actor playing Cooper, and here the production has struck gold. Damian Williams is captivating. He channels Cooper in a way that moves beyond impression, perceptively capturing everything from his subtle movements and asides to the searching flicker of his eyes and that infamously contagious laugh.
As he moves seamlessly between the vivacious character on stage, and the increasingly aggressive (and drunken) character behind the scenes, Williams brings Cooper to life with a charisma and an honesty that rightly steals the show.
But, strangely enough, this isn't all about the man in the red fez. Designer Zahra Mansouri has made ingenious use of the space to allow the separate environments of all three characters to exist on stage at once. And while the trio may seem at odds in their desires, they are all trying to make their money the same way. They're selling laughs.
Whether it's the salesman's (a likeably shifty Gerard McDermott) doomed pitches as he hawks his 27-volume encyclopedia of jokes, the manager's (a sympathetic James Benson) patient mothering of his tearaway talent, or Cooper himself trying to bring his Brit humour to the Las Vegas masses, there's a feeling of unity between the three conflicted characters.
But there's no doubting where the power lies, both in terms of the play's narrative and the evening here at the Old Red Lion Theatre. Williams, like the Cooper we know and love, can make us laugh by just walking on stage. Yet the actor also carries a brooding shadow, like the Cooper behind closed doors, which constantly hints at an interior conflict—an angle played by Williams with great sympathy and style.
While brave in its mission, Being Tommy Cooper is a slick, emotive and thoroughly entertaining portrait of one of the most popular comics of the 20th century.
Reviewer: Kat Halstead