Being Shakespeare
Jonathan Bate
Trafalgar Studios 1
(2011)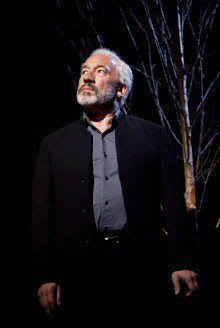 Simon Callow delivers a lecture on the life of Shakespeare with excerpts from his plays - if this sounds intriguing to you, go and see Being Shakespeare; if it doesn't then don't bother. This is one of those shows that turns out to be exactly as it sounds, so if the premise isn't enough to tickle your fancy, this isn't the show for you.
Simon Callow is, or course, brilliant. The actor switches from role to role, from Henry V to Macbeth, from Romeo to Juliet, with ease, giving a mini-masterclass in acting as he goes. Again, it's exactly what you expect; he's a great actor, he has a great voice, he can hold the stage on his own.
Callow talks us through the 'seven ages' of Shakespeare's life, starting with 'mewling and puking'. In his conversational narrative, Callow takes great delight in pointing out that Shakespeare invented the word 'puking'. Having been passed over by the bubonic plague that claimed his two older sisters, Shakespeare lived on to the second stage: childhood. We get a brief lesson in the life of a school boy.
But as we're talked through Shakespeare's life, it becomes plain that the only extraordinary thing about Shakespeare was his plays: he was born, he went to school, he married, he wrote, he died. His life just wasn't that eventful. The early part of Being Shakespeare - his birth, school and marriage - is mildly interesting, but towards the end of the second act the performance becomes heavier on the quotations. To Shakespeare, writing plays and seeing them do well must have been very eventful and exciting; to hear about it isn't so much.
Whilst script writer Jonathan Bate is clever in his interweaving of Shakespeare's lines, sometimes his conjectures seem a bit fanciful; one can only guess where Shakespeare got his ideas, or what feelings he drew upon to write his characters. Sometimes it seems like Bate is struggling to get in the passages he wants Callow to act. On the other hand, his conversational style of writing is easy to listen to and often amusing, telling us how Shakespeare education involved learning to write 'I was happy to receive your letter' in 195 different ways, and describing an early job of holding horses as 'valet parking'.
The stage is a simple design featuring a raised platform and a few props and special effects. A lecture podium would probably have been more appropriate. More often than not, the effects aren't needed and appear to have been used for variety. On the other hand, the props are few and underused. One would hardly expect the panto style changing of hats to indicate different characters, but some inventive use of props and costume such as in The Woman in Black might have livened it up, taking it away from the lecture feel and making it more a show.
The production puts you in mind of really good English or history lesson, or a good TV documentary. The question isn't to be or not to be, it's whether Being Shakespeare gains anything by being live or if it should have just been made for TV.
Reviewer: Emma Berge