Beirut
Alan Bowne
Elphin Productions and Leigh Porter in association with Park Theatre
Park Theatre (Park 90)
–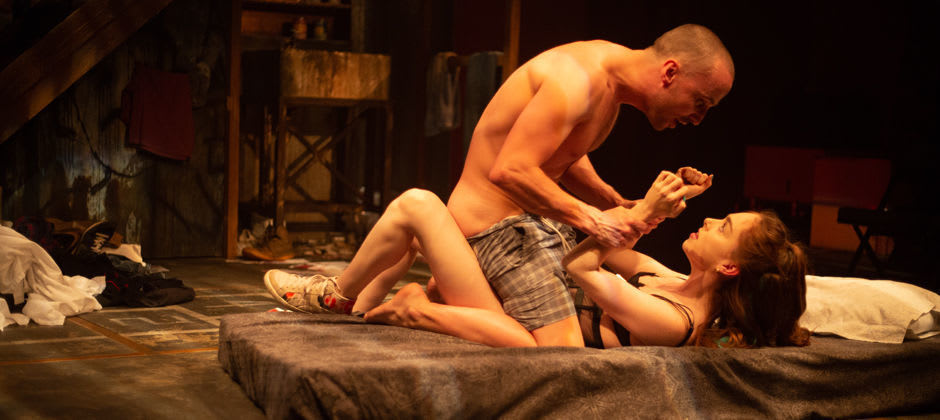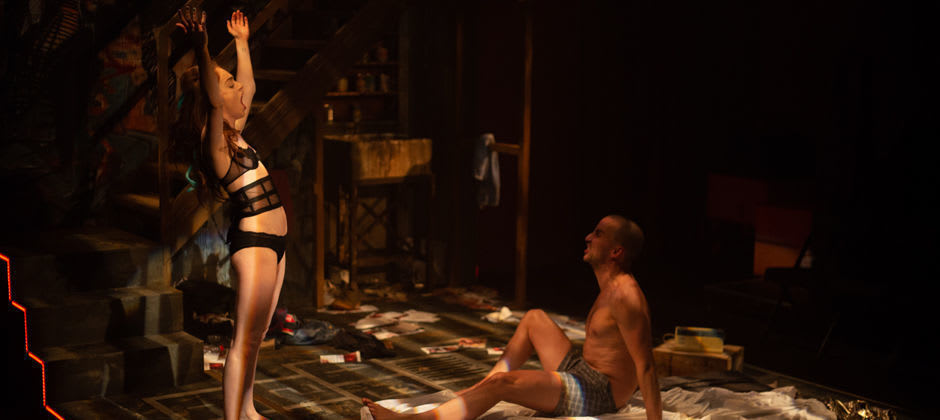 This isn't a play about the Middle East. In Alan Bowne's play, it isn't the Lebanese capital but the name given to part of New York's Lower East Side which has been made a quarantine zone at a time when the world is being ravaged by a disease that is sexually transmitted and being passed via body fluids.
It premièred Off-Broadway in 1987, was obviously inspired by the outbreak of AIDS that was then spreading rapidly and led to Bowne's own death two years later. However, this isn't a play about HIV but about how we react to the threat posed by killer diseases on both a public and personal level.
In Beirut, those tested Positive are tattooed with a P on the buttocks (left for men, right for women) confined in the quarantine zone and denied contact with the outside world. They are allowed to live until they develop lesions, then they are shot. Meanwhile in the Negative world, sex is taboo, a capital crime, and sex detectors set up to spot any infringement.
In a filthy basement, surrounded by squalor, the walls covered in street art, Torch can be seen in what light filters down there doing pull-ups. He's naked and looks young, fit and healthy but he's Positive, surviving on a hoard of uncooked canned stuff. Outside, the flashing lights of a car or a helicopter show the guards on patrol; there will be one visiting shortly to inspect him.
Designer Liz Ascroft and Leigh Porter's lighting present an environment loaded with atmosphere, the filthy sink and the piles of dirty clothing and thrown away papers make a bold statement beyond the naturalistic that matches this play's perspective.
It isn't a guard who arrives (though he will turn up later); it's a girl. It's Blue, his girlfriend, who tested negative. She has surreptitiously got past the perimeter and into the ghetto and wants to be with him. There is a hint that their love was never consummated but a stronger feeling that it is their good sex she is missing to make her feel whole for she tells him, "I can live without sex and feel dead or risk death and feel alive."
In the '80s, when AIDS was considered a "gay plague", the fact that this is a heterosexual couple would have been making a statement and when Torch warns that condoms don't offer security it is a reminder that the message then was no sex, safe sex contentious because not enough was known about the disease. Beirut shows reactions to something not fully known yet—it could have been the Black Death or Ebola, or whatever threatens next in our world.
Fear can lead to inhuman and draconian measures. Love can ignore rational reasoning. Bowne's dystopian, diseased world doesn't explain how humans will reproduce without sex, isn't clear whether what drives Blue is love or just sex and makes Torch a Catholic so that he can end things before his disease becomes unbearable but such details don't affect the strength of the much wider metaphor, especially when played out with such conviction.
Robert Rees as Torch and Louisa Connolly-Burnham as Blue give impassioned performances. They manage to be titillating to each other without being provocative to those watching who are caught up in the tension between them. Director Robin Lefevre makes the conflict of wills hold the attention, stripping down is part of the process but not a distraction.
Beirut is only an hour long, and to last longer it would have to open up new ground, but in this intimate venue it is an hour in which everything concentrates on the actors and they deliver with such energy it has the impact of a much longer work.
Reviewer: Howard Loxton