Beirut Party with Seenaryo

Seenaryo
The Clore Ballroom, Royal Festival Hall
–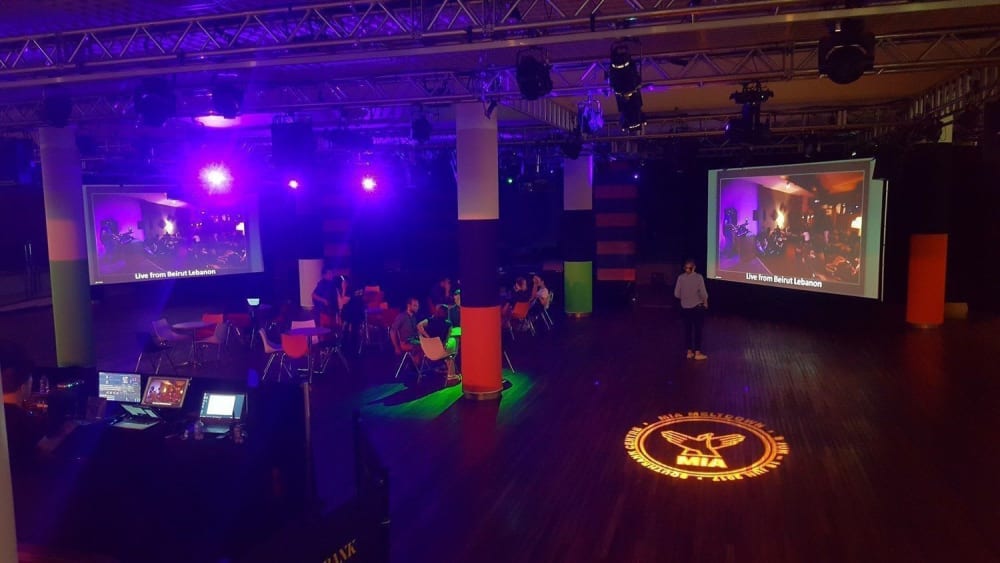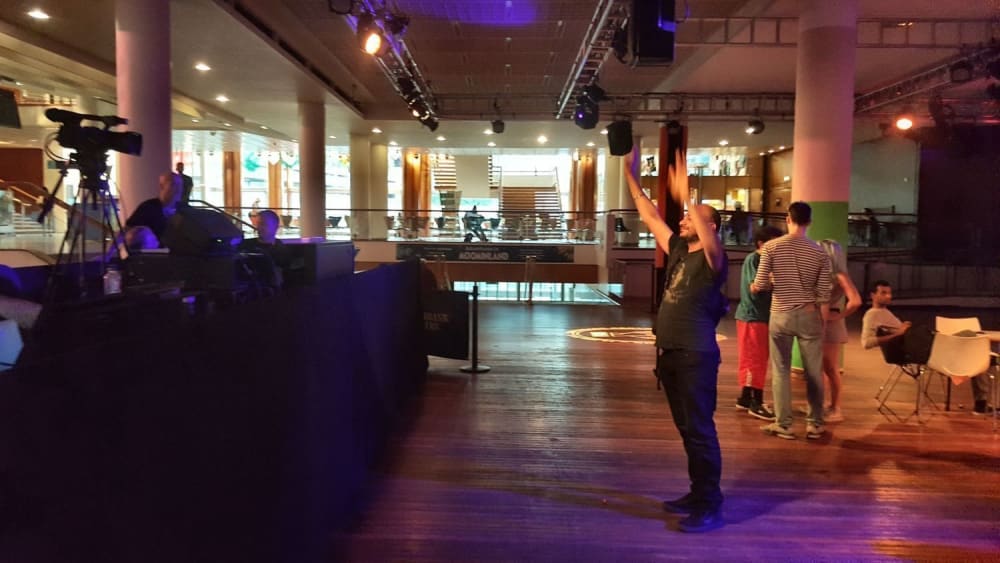 It's that time of year again and Meltdown Festival is back at the Southbank Centre, this time curated by rapper and singer-songwriter M.I.A.
As you walk between venues and events, you might find yourself in the midst of an experiment from arts and education organisation Seenaryo.
The heady beats of a party fill the Royal Festival Hall's level 2, piquing the curiosity of performance goers, drinkers and passers by. Filling the darkened back wall of the Clore Ballroom are two giant screens, each showing the same live-stream from Riwaq Cafe in Beirut, where local Syrian DJs are getting the party started.
Stepping down into the Ballroom, the spectator becomes part of the performance: a fixed camera facing the screens streams the scene in London back to the cafe in Beirut.
Over two hours, artists like DJ Yazen Al Asli and DJ Zaki spin the decks for a cross-continental audience.
The organiser, Seenaryo, works with Syrian and Palestinian refugees in Lebanon. This is part of a series of live-streamed projects they are putting on over the summer to open artistic dialogue between refugees and Europe.
For the opening party, they slightly suffered from scheduling. It may be nearing 9PM in Beirut when the live-stream starts, but it's just gone 6:30PM on a Tuesday in the UK and spectators at the Southbank didn't seem ready for the intensity of the music just yet.
But they soon warmed up, tentatively approaching the camera to wave at their fellow partygoers in Beirut, and by 8PM in London there was even a breakdancer showing off her moves to the music that ranged from hip-hop to electronica and synth pop.
The possibilities for interaction between these two communities are exciting, and when the project returns this Sunday 6-8pm live from Shatila Palestinian refugee camp, it's likely to find a London crowd still in weekend mode and quicker to party.
Reviewer: Belle Donati