Believe What You Will
Philip Massinger
RSC at the People's Theatre, Newcastle
(2005)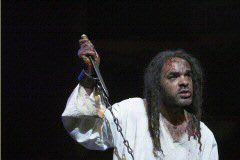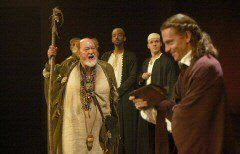 Believe What You Will is the fourth and last production in the Elizabethan/Jacobean/Caroline part of the RSC's Gunpowder Plot season. Written in 1631, it was a rewrite of an earlier play which was rejected by the censor in January of that year because it dealt with the deposition of Sebastian, King of Portugal, by Philip II of Spain, and there was now a "peace sworn between the Kings of England and Spain". Massinger changed the situation, telling instead the story of Antiochus, King of Lower Asia, defeated by the Romans and in exile for more than twenty years, who returns to claim his birthright and is captured by the Roman general Titus Flaminius.
Thus he passed the censor, albeit with some changes. It's a story about kingship, about the needs of the state as against the conscience and beliefs of the individual, and about how some - in this case Titus Flaminius, played by William Houston - come to identify their own personal beliefs and desires with those of the state, to the extent that he attempts to ignore the will of the senate because he knows better.
The text that has come down to us is not complete: parts of the first and last scenes are damaged or missing, and they have been retored by poet Ian McHugh, whilst the text is edited by the consultant for the entire season, Professor Martin White of the University of Bristol. There is also a prologue, written in a different hand to that of Massinger, which points us back to the original, rejected version and invites us to Believe As You List, the title under which the play was originally performed.
It is a very accessible play, even though it deals with events during the early Roman Republic and refers to a sixteenth century political scandal, and it still speaks to us today. One of the hallmarks of the season - and very definitely a trademark of the RSC - is the clarity of diction and quality of verse-speaking from every member of the ensemble, and this, coupled with Massinger's spare verse (closer, if we may use a Shakespearean comparison, to Julius Caesar than to Macbeth), gives the play an immediate impact.
There are two superb performances by Peter de Jersey (Antiochus) and William Houston (Titus Flaminius), last seen as, respectively, Macro and Sejanus in Sejanus: His Fall, with very strong support from the rest of the cast, particularly Nigel Cooke as the Stoic and, later, Marcellus, Barry Stanton who provides some light relief as well as some moving moments as the Flamen Berecinthius, and Jonjo O'Neil as Prusias, King of Bythinia.
I had reservations about Houston's almost monolithic performance as Sejanus, but here there was much more subtlety and a far greater variety of dynamic whilst still retaining a compelling drive and power, which contrasted well with de Jersey's lower key but very powerful Antiochus.
Undoubtedly a work of Massinger's maturity (he was over forty when he wrote it), had this been the only one of his 55 plays to survive (in fact, 33 did, 15 of them written by him alone), it would have assured his stature as a playwright.
Philip Fisher reviewed this production on its London transfer to Trafalgar Studios 1
Reviewer: Peter Lathan