Belisario
Gaetano Donizetti
Teatro Donizetti, Bergamo
Released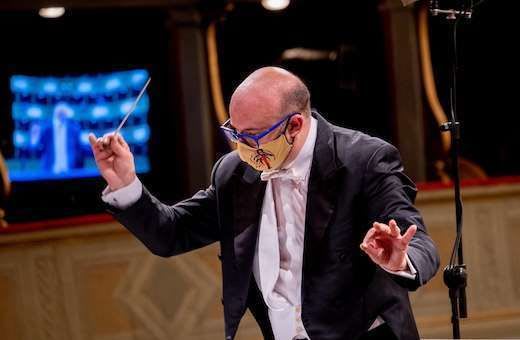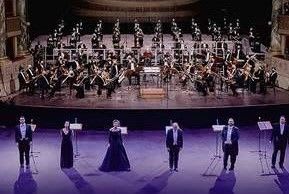 There's an irony arising from Donizetti's own evaluation of his opera that the music did not quite ascend to the level of its immediate predecessor, Lucia di Lammermoor, but that it could be effective given a good production.
All credit to Italian opera houses for carrying on under COVID restrictions, but given the composer's assessment and the fact that this is a concert performance, I wondered about its value on DVD.
Nevertheless, both the score and the singers provide much to enjoy, even if one misses dramatic impact.
In Bergamo's empty Teatro Donizetti, wind and strings are separated by screens that stretch across the middle of the orchestra, with the chorus positioned behind and wearing masks, which makes their words somewhat indistinct. Soloists stand in the auditorium, facing conductor Riccardo Frizza, and it is fascinating at times to watch the relationship between the two.
The libretto, only the second by the later prolific Salvatore Cammarano, tells of the Byzantine general Belisario's triumphant return from wars with the Goths, who is then falsely accused of treason by his wife Antonina, because she has just been told he did away with their baby son. Their daughter Irene follows him into exile, before it emerges that Belisario's prisoner Alamiro is in fact his missing son. Tragedy ensues.
Belisario is a rare Donizetti opera that has no love story, although its substantial and attractive overture could serve as well for a romantic comedy. The closest that it comes to such matters thereafter is "Quando di sangue tinto", a fine duet between Roberto Frontali's Belisario and Celso Albelo as Alamiro that points hesitantly towards Verdi's Don Carlo and Rodrigo.
Frontali is facially and physically impassive—one really would not know that his character has been blinded at the end of the first act—but is nonetheless expressive in voice, while Albelo sings with great sensitivity, rising to military vigour in "Trema Bisanzio".
It is the female leads who most fully act out their parts, with Carmela Remigio expressing all the anguish of a mother believing her husband has killed their baby, and of a woman later bereft at her deception, without once losing her sweetness of tone. She coaxes every feeling into her final aria "Da quel di" with soft accents and lovely, distinct enunciation.
Annalisa Stroppa too finds depth in the character of Irene, torn between loyalties, and contributing with Frontali and Albelo to a finely balanced trio for the unusual operatic combination of father, son and daughter.
Other highlights include the closing act 1 larghetto which leads to a typically Donizettian lively finale, and the graceful, melancholy introduction to the final act, which here does exactly capture the mood and does so with the delicacy of Bellini.
The DVD ends after two hours ten minutes in eerie silence as principals, chorus and orchestra line up, somewhat uncertain whether to take bows before a non-existent audience. It's an odd moment, and yet more effective than one might expect. Rather like this DVD.
Reviewer: Colin Davison