Be My Baby
Amanda Whittington
New Vic Theatre, Newcastle-under-Lyme
(2008)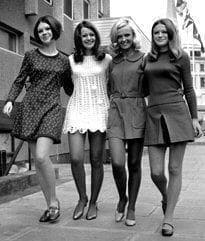 Ten years after its premiere, Amanda Whittington's period piece about pregnant teenagers being sent away to give birth and avoid the stigma of being unmarried mothers gets a New Vic revival - the first time it's been performed in the round.
In the programme Whittington admits she never expected the play to be around a decade after she wrote it and she's too close to the work to be able to say why it's popular. But she gets emails from students which convince her that society today has similar issues about young, single mothers.
The appeal of Be My Baby is that it throws new light on a decade which in some ways is mistakenly heralded as the swinging '60s, a time of freedom and choice when barriers tumbled more quickly than Phil Spector propelled girl groups to pop fame.
Behind the liberty, though, were victims, especially the young girls who "got into trouble", usually at the hands of men who discarded the responsibilities of fatherhood faster than a cigarette end.
Be My Baby follows four teenagers who are forced during pregnancy to go to a church-run home where they perform menial jobs before handing over their babies for adoption.
Whittington's play succeeds because it shows not only that the girls are normal teenagers who've made a mistake but also that they were kept in the dark about what would happen to them and their babies. The young women innocently believed they could stand on their own feet - but no one would give a single mother a job. Worse still, once a baby was adopted, contact with the birth mother was permanently severed.
The New Vic production succeeds because the casting is superb, with four girls each with their own distinct personality joined by a snobby mother and a stern but caring matron.
To the sound of Dusty Springfield's I Just Don't Know What To Do With Myself, the play starts with Mary Adams, a cashier at the Trustee Savings Bank, getting ready to leave home while her battleaxe of a mother makes sure her daughter will do as she's told and not bring disgrace on her family.
Vivienne Rowdon gives a stunning performance as Mary, the educated but naive girl who actually gives birth in the home one night. She gives a multi-layered performance, from the submissive daughter to the confident young woman who wants to map out her own future only to face several setbacks, none worse than having her baby taken from her after she's cuddled the infant for several hours.
Sian Reese-Williams is just right as Queenie, the rebellious yet considerate teenager who knows the futility of trying to beat the system; Sarah Price charms as Dolores, the intellectually challenged girl with a good word for everyone; and Lindsay Allen gives a heart-rending portrayal of Norma who turns into a pathetic shadow of herself after the birth of her child.
Deborah McLaren (Mrs Adams) shows vulnerability behind her icy exterior while matron Maggie O'Brien sympathises with the girls' predicament although she has to do her duty.
Former EastEnders' director Sarah Punshon directs Be My Baby sensitively although there are a couple of occasions when there is a slight lack of pace or tension.
I would have preferred the four girls to have been given more opportunities to show their singing abilities. From the little we heard of them they can all hold a tune - but most of the music was on record and filled in the time between scene changes.
Apart from that Be My Baby is a typical New Vic production: well acted, cleverly staged and a fine evening's entertainment.
"Be My Baby" runs until February 16th
Reviewer: Steve Orme