Ben Hur
Patrick Barlow and Sean Foley
Watermill Theatre
Watermill Theatre Newbury
–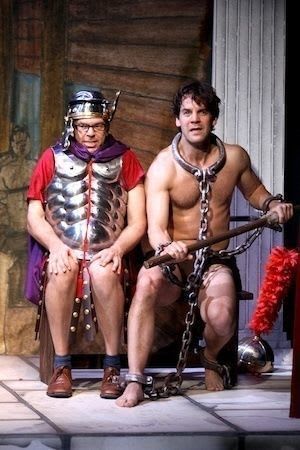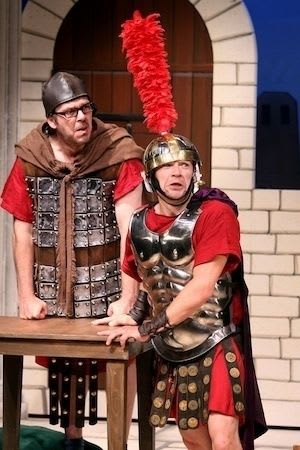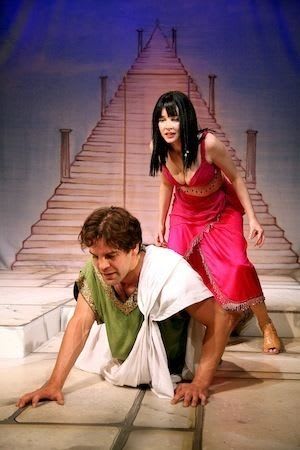 They said it couldn't be done; they said it would be an impossible feat but this stellar cast of four perform the epic Ben Hur with energy and vigour including a sea battle, a Roman orgy and a live chariot race and it is an absolute triumph, a hilarious romp through Roman times with laughs from beginning to end.
The script is hilarious; it's madcap zany humour that is Pythonesque in style with nods to the Carry On films and the Art of Coarse Acting. Written and directed by Patrick Barlow from the National Theatre of Brent, who also penned the highly successful The 39 Steps that is still running in London, and Sean Foley who recently directed The Lady Killers.
The Compagnie d'Alexander Berkin, the athletically muscled John Hopkins superbly plays Judah Ben Hur, dressed in an extremely short toga he introduces the audience to his cast.
Things haven't exactly gone to plan as an actor is ill and is replaced by the nervous stage hand, the funny Andy Williams, who looks remarkably like Eric Morecambe with the same outrageous humour playing Mrs Hur who has to be helped by the other members of the cast to remember his lines.
Elisabeth Cadwaller is wonderful as Sally Wiggins, the dance graduate from Dudley Tech, who is determined to perform a dance routine at every available opportunity including a boisterous sand dance with a flavour of Riverdance.
She plays all the female roles including Hur's sister, the slave girl Esther and the fascinating femme fatale Iris with aplomb and an incredible quick change of wigs.
Meanwhile Judah Ben Hur is betrayed by his friend and serves time as a galley slave with the most out-of-synch sound cues that added to the fun.
Nick Haverson stoically plays a variety of parts including Jesus and Messala who when visiting his friend prompts the grown making question, "Chicken, Messala?" Oh yes it was one of those shows.
There were bags of audience participation that everyone thoroughly enjoyed and entered into with gusto.
The first act was played at a frenetic pace creating great expectations for the second that was not fully realised, but was equally as funny.
As to the chariot race, well you really needed to be there so I won't spoil it for you.
This was a great riotous production that had the audience in stitches. If you are looking for an antidote to the gloomy summer weather this show is the perfect tonic.
Reviewer: Robin Strapp