Benidorm Live
Derren Litten
Michael Harrison Entertainment and David Ian Productions
New Victoria Theatre, Woking
–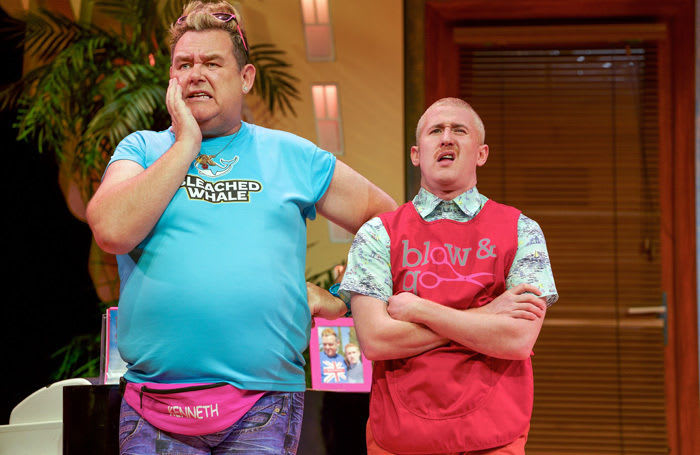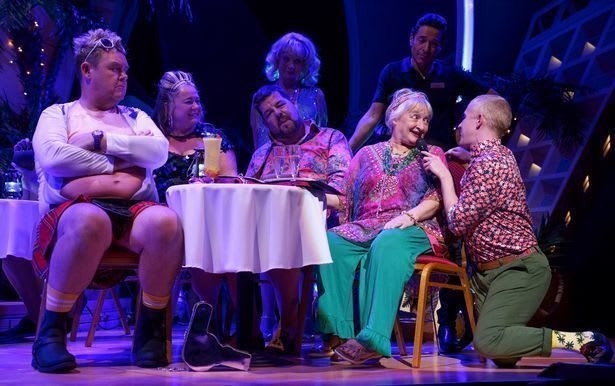 Benidorm introduces the Solana, a tacky package hotel on the Costa Del Sol, full of stereotypical guests and staff. Based on the TV show, this stage adaptation continues to poke fun at brits abroad sunning themselves on a cheap deal.
A hit ITV show, Benidorm has finally been axed after 10 years, but Derren Litten's stage creation includes six of the key characters from the show and the innuendo lives on.
Hearty applause and cheers met the stars as each make their first appearance on stage: Temple-Savage (played by Sherrie Hewson), Sam (Shelley Longworth), Mateo (Jake Canuso), Jacqueline (Janine Duvitski), Kenneth (Tony Maudsley) and Liam (Adam Gillen).
The audience continued to roar its approval throughout, the close-to-the-bone humour and feelgood factor delighting and tickling everyone in the auditorium.
Picking from one of the TV storylines, the Solona Hotel is at risk of takeover from a large hotel chain and corporate inspectors are rumoured to be masquerading as guests. Attempting to butter up the otherwise usually ignored guests, the staff to scurry round trying to please the seemingly out of place couple who have just arrived at the hotel.
The action slickly moves between the reception, pool, Joyce's office and the Blow and Go hair salon with some intentionally corny dance moves from the cast to ensure a seamless transition.
The second half centres on the evening in Neptune's Bar and here a cringeworthy cabaret is enacted to attempt to win over the inspectors. Here Shelley Longworth, as Sam, reveals vocal talent with her first number… whilst in contrast Adam Gillen doesn't break from his awkward and hilarious vocal and physical traits for a moment, and the results are priceless.
Not afraid to indulge in some serious camp acting, half of the characters are gay, swingers or cross dressers. The humour is fairly obvious, but, despite the fact you can see the jokes coming a mile off, the lighthearted banter, constant puns and some seriously outrageous lines delivered with aplomb by Janine Duvitski make it impossible not to be swept into the merriment.
The crowds at Woking prove Benidorm might have had it's TV day, but the mix of OAPs, teens and plenty of middle-aged couples are keen to get their Spanish fix. This sun-soaked silliness is the perfect antidote to the January blues.
Reviewer: Louise Lewis