Bent
Martin Sherman
ADK Productions in association with Theatrica Ltd. for the Landor Theatre
Landor Theatre
(2010)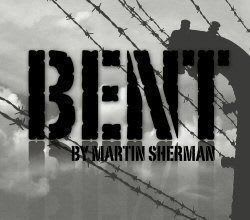 Martin Sherman's play about the persecution of innocent people during the Holocaust of World War Two is a gripping piece of theatre. Written over thirty years ago, it remains as powerful as when it was presented at the Royal Court in 1979 at a time when Germany was still divided. Directed and produced by Andrew Keates, Bent's latest outing at the Landor Theatre does justice to all those who died in history's darkest of days.
The play follows Max's journey from shady Berlin to the concentration camp at Dachau and examines the persecution of homosexuals under the Nazi regime. All goes downhill when one night Max invites Wolf home after a drug and alcohol infested evening, unaware of his SS Officer status. Events pursue and Max, along with his sensitive, plant loving boyfriend Rudy, try to flee the country, fearing their safety. Escaping is never easy; they are soon found out and sent to Dachau. Not everyone makes it to the ill-fated concentration camp, so brutal are the guards, but on a journey of terror love is found and this love makes the hell of the camp a little more bearable.
The insecure and fragile Max is played by Russell Morton with great realism. Morton's performance is outstanding to watch as his character battles with every possible emotion on his journey. Here is a truly believable character; under his arrogance and self assured confidence he is weak and Morton expertly depicts this.
Making his London debut is Chris Barley in the part of Rudy, a wonderful actor who relishes his craft and appears completely at ease on the stage. Barley provides some lighter moments in this dark play, but never stereotypes his role as a gay cabaret dancer, which means he remains a believable character and not a caricature.
The relationship between Max and Rudy is extremely tender. The harrowing moment when Max renounces Rudy aboard the train is most dramatic and the actors manage to capture the emotional anguish perfectly. However, this is somewhat ruined when Rudy is revealed later in the scene looking like something out of Hammer horror film. A little less blood would maintain the focus on the men's relationship and remind the audience that the real crime here is that Max selfishly ignores his lover all in the name of his own survival.
Bent questions how far one is prepared to go to stay alive. Max lives a life of secrets, preferring to be a Yellow Star than a Pink Triangle. The war has forced him to commit his own atrocious crimes, whilst all around him atrocity reigns.
Richard Beanland as Horst, the Pink Triangle Max befriends, creates much empathy in his portrayal of a man consigned to Dachau simply for signing a gay rights petition and love blossoms inside the camp between the two prisoners as they conduct their daily routine. Forbidden from touching, the two caress each other with words in what must be one of the most sensual and romantic pieces of theatre written, superbly acted by Morton and Beanland.
It is easy to see that a lot of passion, thought and dedication has gone into Bent and director Keates should be congratulated on this quality production. His direction is imaginative and fresh and the attention to detail in the slightest of things, from German newspapers to metal ladles and soup pots, really contributes towards the high standard of theatre on offer here.
The intimate space of the Landor is well used and the play flows extremely well with great rhythm. Well chosen sound and special effects really do add those final quality touches, demonstrating that Fringe theatre most certainly does not mean cheap and basic. A cleverly designed lighting plot courtesy of Howard Hudson creates a smoky Berlin where characters in costumes by Freya Groves lurk in the shadows as large Nazi banners remind the audience of their constant omnipresence.
As 2010 marks the 65th anniversary of the end of World War Two, Bent is a fitting tribute to all those who lost their lives in atrocities the likes of which we hope will never happen again.
Playing until 15th May 2010
Reviewer: Simon Sladen