Beowulf, a boutique panto
John Savournin with additions and editing by David Eaton, James Young and the cast
Charles Court Opera in association with the Rosemary Branch Theatre
Rosemary Branch Theatre
(2011)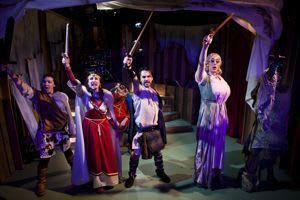 Beowulf, a pantomime? That's quite a challenge to pull off, turning a Scandinavian saga into a traditional British panto, but if anyone could then that's probably John Savournin whose boutique pantos seem now established as a highlight of the Rosie's year.
These Yuletide romps always have their own take on the story and this time he has been particularly free with the story. He weaves together the monster Grendel and the separate dragon parts of the saga. This Grendel survives having his arm chopped off and isn't such a bad sort after all. His not-so-terrifying mum is the Dame role and she turns out to be on Beowulf's side. A grand funeral and internment in a tumulus are no way to end a panto. In this version, though Beowulf does die in his battle with the dragon, he is brought back to life by the ghost of King Hrothgar, marries his princess and together they rule the kingdom. Well, you have to have a happy ever after! Except that that isn't the end—it is followed by a traditional song-sheet singing competition for the audience.
There is earlier audience participation in a fish finger making race which leads into a dough throwing battle and a revengeful piece of custard pie work—on press night, PR Kevin Wilson was the victim. But don't let that put you off; Charles Court Opera is very careful whom they choose and you can be certain it will be done in the nicest possible way.
Sadly, things don't start with such panache but begin wrong-footed with a very nicely spoken lady introducing the story. Panto this very much isn't; there is no rapport with the audience, she's not a character in the story who us going to share it with us, she's far too restrained, she hardly reached me even in the second row and doesn't even try to get us on her side. Strangely when this actress joined the rest of the cast as part of the show, her projection was all there. Perhaps it was just first-night nerves, though this is a problem I've seen before with singers whose voices shrink when speaking lines. We need a Buttons type here, not upper class refinement.
The mood changes with Simon Masterton-Smith's mead-muddled King Hrothgar and Catrine Kirkman makes a princess worth fighting for. Our hero Beowulf is Kevin Kyle, his romantic looks not really becoming the battle-worn warrior despite a make-up scar. He gets to hack of Grendel's arm but we don't see much of the tough guy, though takes off in a well-known lovers' duet and gets the opportunity to blow his trumpet. He gets great support from his sidekick Wiglaf: Amy J Payne with painted on beard being butchly charismatic; she could steal the show if this company were not such a well integrated ensemble.
For a panto, it is a drawback that there is no real villain in this piece and the "He's behind you" element is missing. Largely missing too is the recognition response and call for audience support of the current panto tradition, though there is a gesture towards it with the "monster" Grendel getting them to baa like sheep, but Philip Lee's Grendel isn't really given the material to develop it and even John Savournin as the monster's mother, towering with a big boobs and a beehive hairdo, is less ebullient than usual. Strange, I never thought I would ever criticise this company for restraint.
With their previous work, this company has set up very high expectations and we all know that means each time you have to come up with something even better. There is plenty to enjoy in this Beowulf, some great jokes and, of course the music is good with musical director James Young and David Eaton on piano and Ben Calvert on drums and the singing excellent, including some familiar favourites. It is still a fun evening but not quite the hoot to which one hoped Savournin could carry his creation.
"Beowulf, a boutique panto" runs at the Rosemary Bush Theatre until 8th January 2012
Reviewer: Howard Loxton